Tea Room Review: Afternoon Tea at Mocatinas in Leesburg, Virginia
My husband, Xak, and I love afternoon tea whether it's at our house or in a tea room. I always get giddy every time I see a three tiered tray.
We especially enjoy visiting new tea rooms because it gives us ideas for our own private teas (and because we don't have to do the dishes 😏).
On our last visit to Leesburg, Virginia in May 2023, we stopped by a place called Mocatinas. We walked out with 4 adorable macarons and vowed to return once we discovered they served afternoon tea. We finally fulfilled this promise on Friday, August 11th.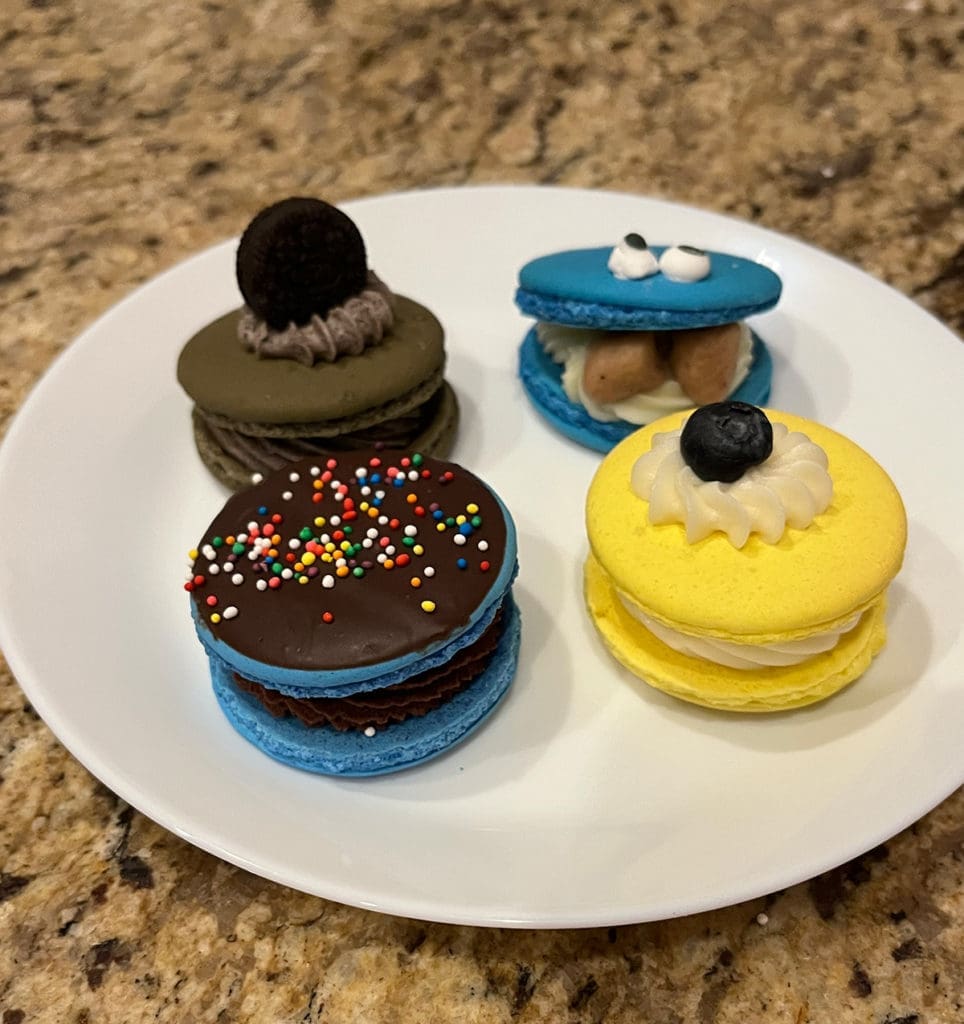 About Mocatinas
Mocatinas is a very pink dessert and sweets shop located in Downtown Leesburg, right across the street from the Loudoun County Circuit Court Building. They specialize in macarons, serve ice cream and coffee, sell a TON of candy, and if it's sugary and sweet, it's probably there.
Reservation Process
Reservations can be made on the website through a form. I received a processing email and a follow up confirmation email notifying me that my reservation would be held for 20 minutes on the arrival day. Changes can be made to the reservation by calling in advance.
Parking
Downtown Leesburg has parking garages and on street parking that is paid through an app. For Mocatinas, we parked at the Town Hall parking garage, exited towards East Market street, passing Tally Ho Theater, and a delicious looking place called Buford's Biscuits (I mentally filed this one away for a future visit).
The walk is about 0.2 miles away and takes about 4 minutes depending on how long the one crosswalk takes.
If the above map does not load on your device, here is a direct Google maps link with directions from Town Hall parking garage to Mocatinas.
Parking at the Town Hall parking garage is free for the first two hours, and then $1 for each hour after that. A Mocatinas reservation is only 1.5 hours, so you won't have to pay anything additional if you're just getting tea.
The Leesburg, Virginia government website has more information about parking including exact addresses.
The Tea Room (Exterior)
Depending on which way you approach Mocatinas, you'll start to see some balloons, flags, and easel signs outside notifying you of special events including free cotton candy?!
The Tea Room (Interior)
The whole place is pink and… sweet. You are seriously a kid in a candy store. I felt like Xak and I needed to head to the movie theater to watch Barbie after this.
Mocatinas has two floors. The downstairs area contains the candy and gift store, ice cream, coffee shop, kitchen, and bakery. The second floor is dedicated to afternoon tea and additional seating for cafe patrons.
note about Accessibility
Because the afternoon tea area is on the second floor, call in advance to ask about accessibility/mobility accommodations.
We arrived about 10 minutes prior to our reservation and went to the front counter to check in.
We were taken to the second floor and led to a private room blocked off by stanchions. (I learned this word from a Psych episode. Thanks, Lassiter.)
I briefly panicked thinking that I checked a box on the form with an upcharge for "private lounge" without realizing it, but apparently it was just one of the 3 rooms you can be seated in. We were told to relax, hang out, and make ourselves comfortable.
At most tea places I've been to, you sit in a large dining room with other patrons at close tables and you hope nobody is listening to your conversation. This was different and a nice surprise.
The room had a sofa with logo emblazoned pillows, low tables, and a high counter with tall bar stool-like seats. We had a window in front of the counter where we would take our tea with a view of the chandelier. The best part was that you could see the servers coming up and down the stairs so I would know exactly when our food was arriving!
There was another window facing outside and we could see additional outdoor seating and an adorable small house with the same Mocatinas monogram logo as the pillows. I mentally reminded myself to investigate further after tea.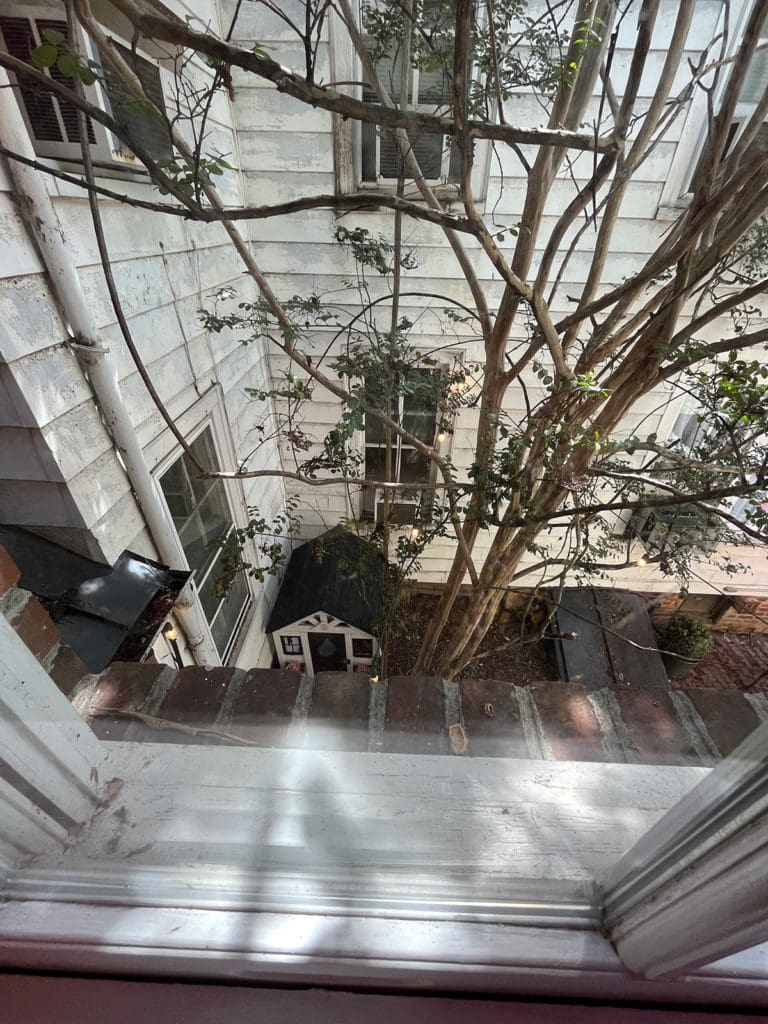 There are other rooms on the second floor, likely where other guests and larger parties sit. Since we signed up for the first reservation available that day, nobody else was there at the time, although another party did arrive mid-way through our tea.
Background Music
Another difference from other tea houses was the music selection. Normally most places will stick to instrumentals (such as classical piano, movie soundtracks, or a string quartet playing covers), however the selections here were modern with vocal tracks. Some songs I remember included Young Folks by Peter, Bjorn, and John and Little Talks by Of Monsters and Men. No Bach here.
Music played out of a built-in ceiling speaker in our sitting area. The music was at a comfortable level and didn't impede our riveting tea time conversation.
Tea Selection
Xak and I were able to select one tea flavor each from a selection of loose leaf teas (2 teas per table). We were informed they were out of Earl Grey Creme that day. I selected my usual English Breakfast (my classic baseline tea) and Xak selected Salted Dark Chocolate.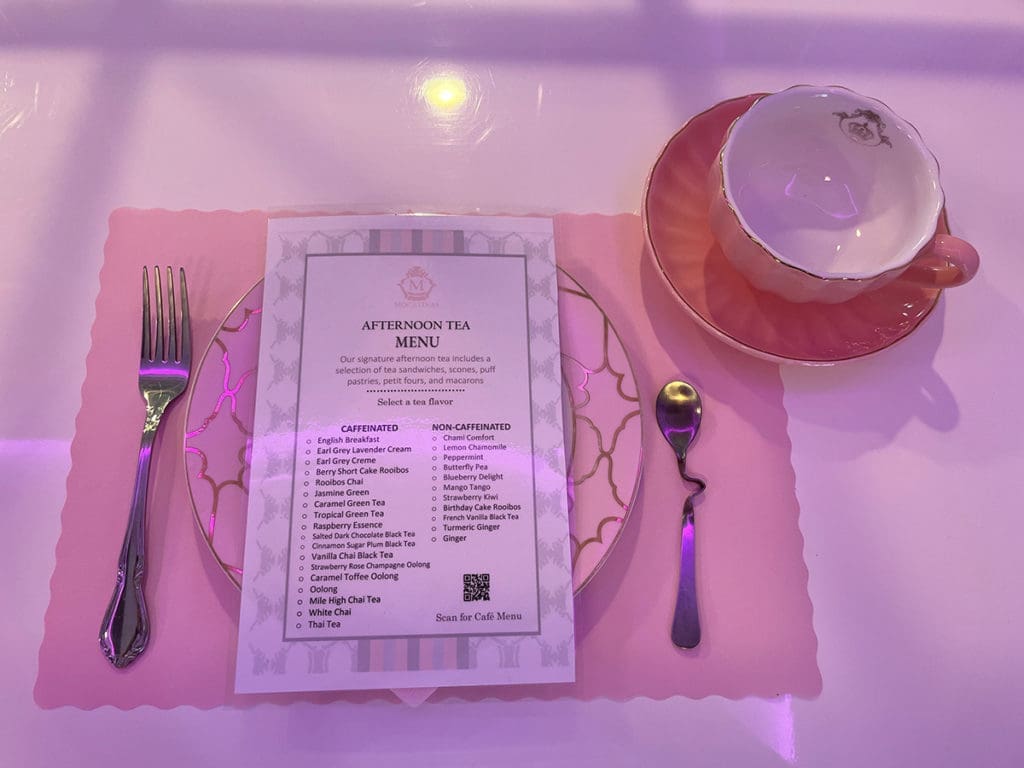 The tea was served first along with sugar (granulated) and milk, and glasses of water. My tea tasted a bit weaker than what I make at home, but Xak's tea had good flavor. I was hoping for some sugar cubes because I love using tongs and not having to worry about portioning. The spoons were interesting though and were enough to distract me from the lack of sugar cubes.
The tea pot had a strainer for the leaves, an accompanying saucer to catch any tea drips, and was filled with plenty of tea for the entire meal.
The Three Tiered Tray (Food)
After the tea was served, we were given a selection of macarons to choose from:
Unicorn Vanilla
Crème brûlée
S'more
Strawberry
Birthday Cake
Lemon Blueberry
Cookies and creme
Bavarian Cream
Salted Caramel Chocolate
English Toffee
(I am 95% sure this list is right. I asked our server to kindly repeat the list again because I couldn't write fast enough the first time. )
I selected Crème brûlée and Xak immediately selected S'more (no surprise). In addition to the macarons, we were told the food would also include a few savories, scones, and other desserts.
The food arrived in a reasonable time, and I felt bad because our server had to carry it up the flight of stairs. I imagine these tea trays are quite heavy. I started to worry that I would have a front row seat viewing of a tea tray transport accident, but fortunately nothing of the sort happened while we were there.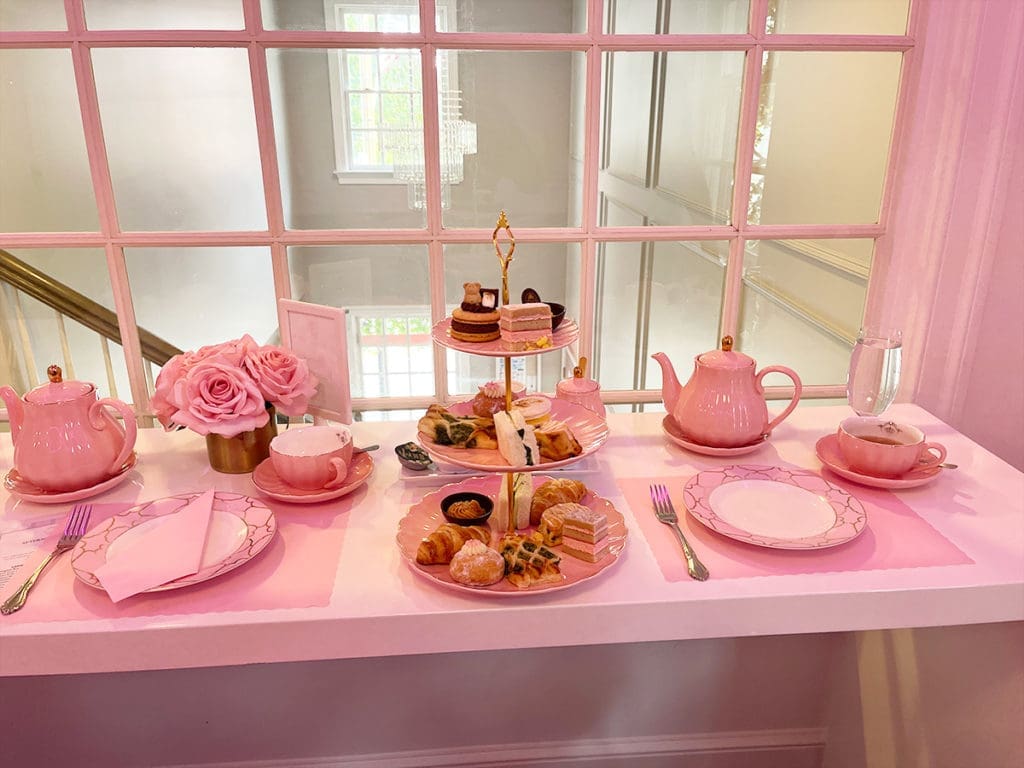 The tray looked very nice (pink, of course) and our server explained each item.
Savories:
cucumber sandwiches
spinach and cheese puff pastry
mini croissants
Scone:
orange and cranberry with a strawberry drizzle
Dessert:
Our selected macarons
petit four
chocolate cup with toffee and caramel
raspberry beignet
We were also served grape jelly, marmalade, and honey with lemon and whipped butter.
For afternoon tea, Xak and I always start with savories first, then scones, and then finally desserts.
Savories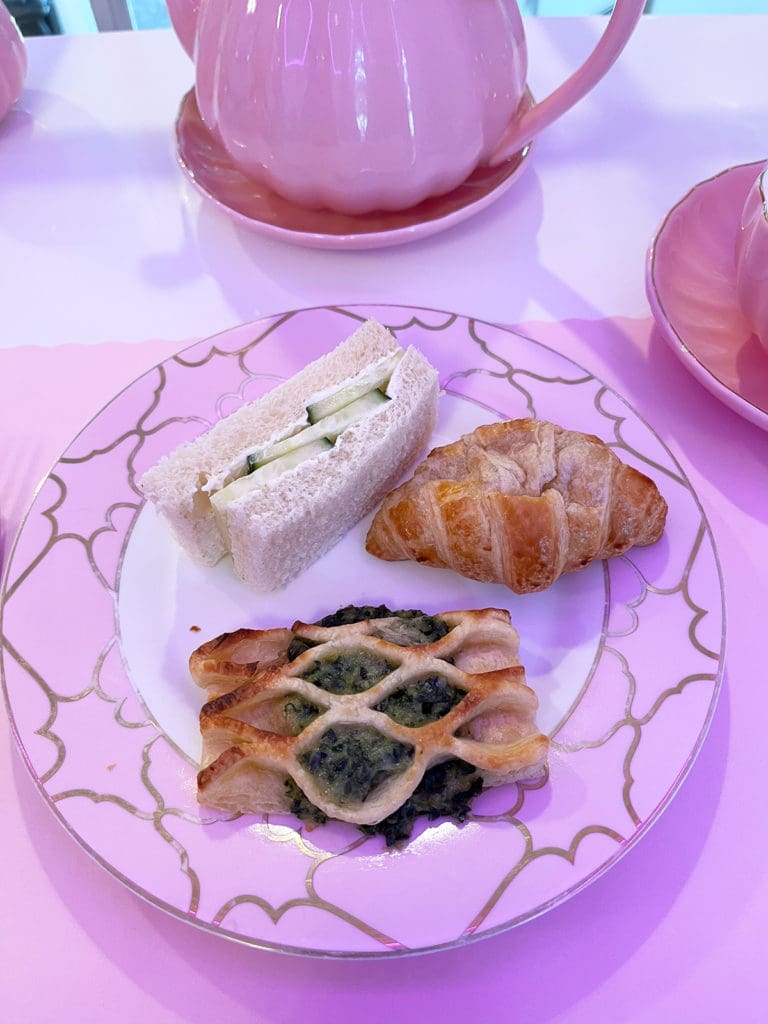 Cucumber Sandwiches
The cucumber sandwiches were fine, albeit very neutral. Cucumbers and cream cheese on white bread. I detected no additional flavors in the cream cheese. I personally prefer adding a little bit of herbs in my cream cheese sandwiches at home. Is that proper? I'm not sure. This however was just a cucumber sandwich, true to its name.
Spinach and Cheese Puff Pastry
The spinach and cheese puff pastry was excellent! I appreciated the saltiness, the creaminess of the cheese, and the crisp pastry surrounding the spinach. I am a big fan of spinach artichoke dip, and while this didn't taste like that, it still gave me the same pleasant vibes as I savored every bite. I also liked the lattice on top.
Spoiler alert: this was the highlight of the entire meal and I thought about it throughout every other bite and sip. I also kept mentioning it out loud to Xak. About 50% of our conversation at Mocatinas was me talking about spinach puff pastries.
Another spoiler alert: according to the website, it looks like this same pastry is also served on their cafe menu. A return trip? 🤔
Mini Croissant
The mini croissants were cute, and although I've been eating Xak's homemade croissants for a week or so now, I still enjoy croissants. I normally eat croissants with coffee, and this might actually be the first time I'd eaten a croissant with a cup of tea. The croissants tasted fine, but nothing can compare to Xak's croissants (I am very biased).
Note: Normally we eat croissants plain, but Xak decided to try it with the marmalade and whipped butter.
Scone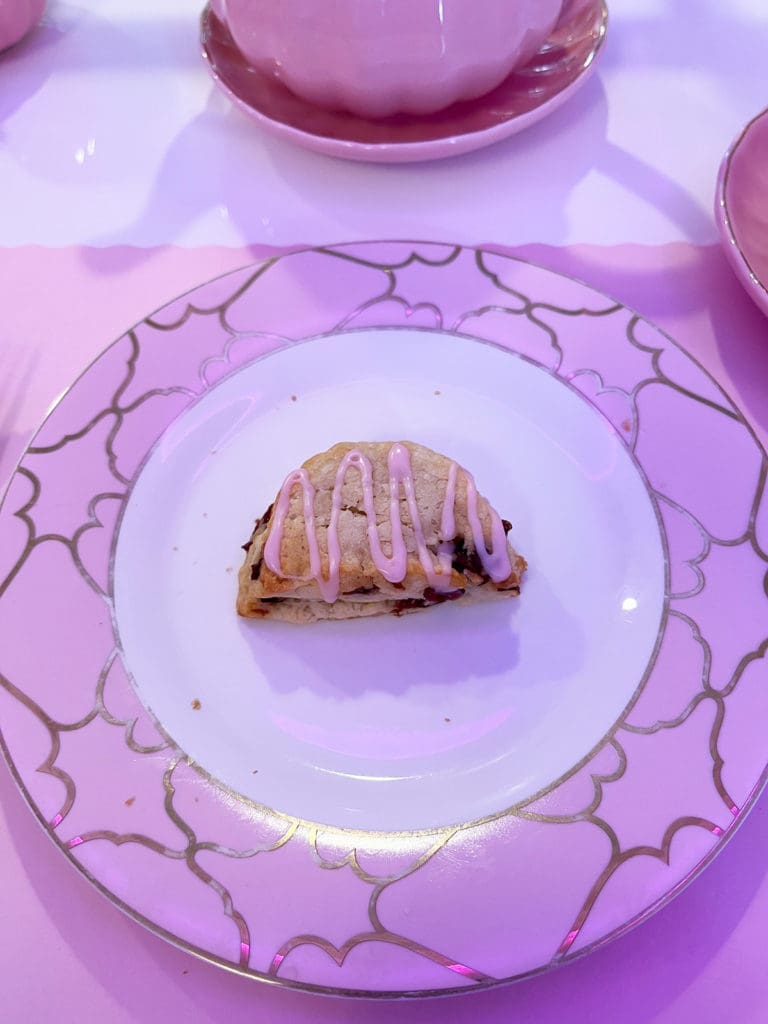 Cranberry and Orange Mini Scone with Strawberry Drizzle
The website did say "mini scone" and they weren't lying. This looked like half a scone to me (the other half being on Xak's pink plate). Since the scone was flavored and had a drizzle already, I did not see the need to put any additional jam (or butter) on it. I actually wasn't sure how to even put any condiments on this since I couldn't break off the top easily.
It was very tasty, and also very sweet. The fruit had a nice fresh flavor, not burnt or dried. I looked longingly at Xak's half of our scone and wondered if we could recreate a full size version of these at home.
Desserts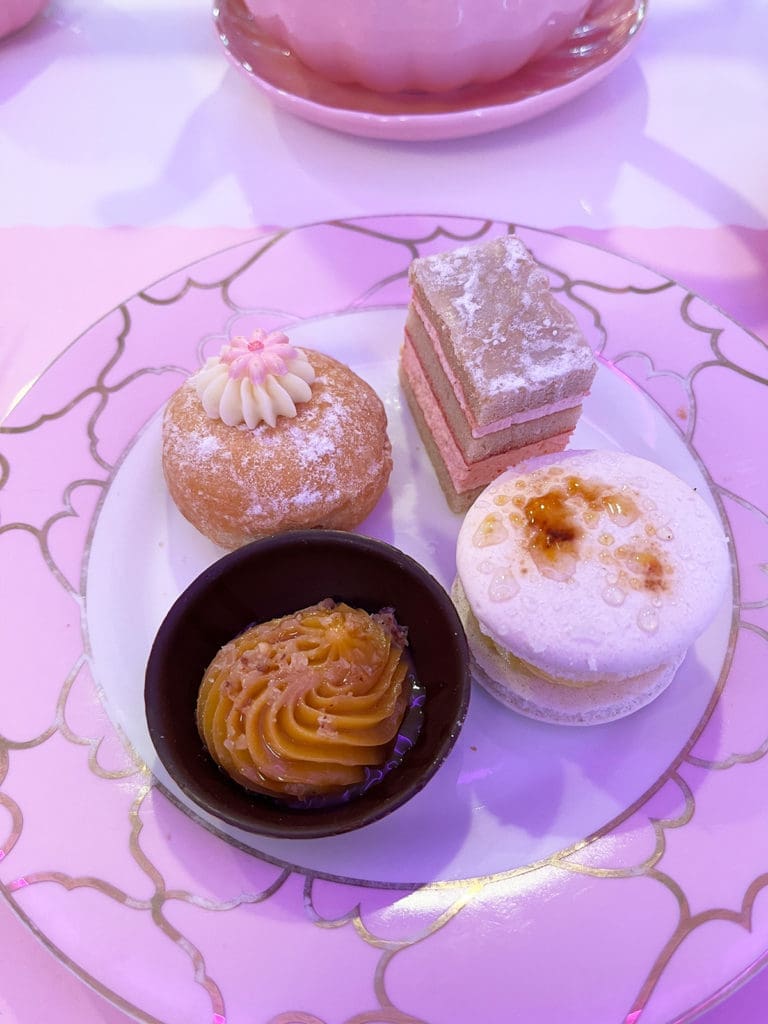 Raspberry Beignet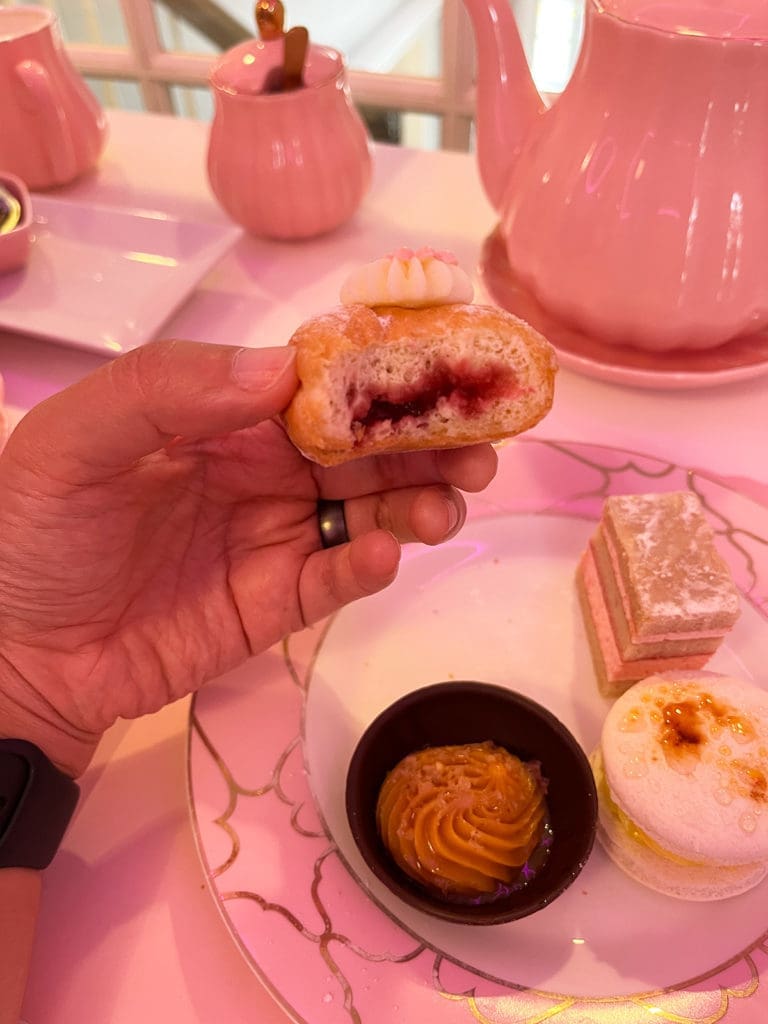 Beignets are like close cousins of doughnuts, so you can likely guess my thoughts on them. (Hint: Our blog is named Scones and Doughns) However, the beignets I've had in the past have always been square, parcel like fried pastries, dusted in powdered sugar and I have always had them with coffee. These beignets were styled specifically for an afternoon tea. It was a nice bite and when I wasn't talking about the spinach puff pastry, I was talking about the raspberry beignet.
Berry Petit Four
During afternoon teas, I rarely touch the fork that gets placed at my setting unless something looks particularly messy. Since the petit four had an exposed creamy element, I figured it was safer to not risk an oozing mess on my fingers. It tasted like a sweet, creamy, berry mousse and the cake layers did not have a very distinct flavor. Vanilla? Maybe. I think it would have been better if I had eaten all the layers in one bite as intended.
Crème brûlée Macaron (And Xak's S'more Macaron)
I chose this macaron because I have previously eaten crème brûlée macarons at another bakery and was completely blown away. Strangely enough, I'm not a big fan of actual crème brûlée. I've only had it once or twice and I don't remember what it tastes like; I just remember the macaron version.
This particular crème brûlée macaron didn't blow (torch? heh) me away. It was extremely sweet, and had a custardy flavored filling. It's possible it might actually taste like crème brûlée and so perhaps it succeeded in its mission. I think I am not a big crème brûlée fan after all: just a fan of those specific crème brûlée macarons from that bakery.
I also think if I had realized how much of a pain it was to properly type out "crème brûlée", I would have chosen something else.
Xak and I love sharing bites with each other at restaurants and he graciously shared his s'more macaron with me, and I'm so glad he did. Mocatinas did a great job recreating a s'more version of a macaron including a marshmallow filling and an adorable Teddy Graham cookie. It was also a lot less messier to eat than an actual s'more.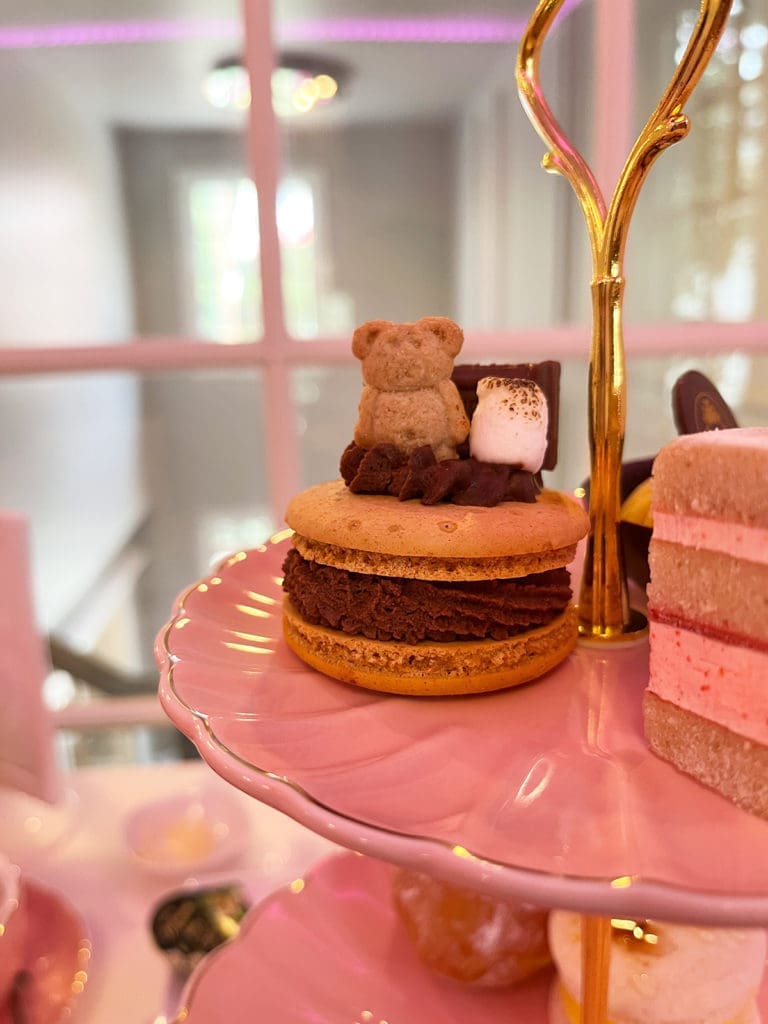 The macarons were very cute, well decorated and they were a little softer than the ones we make at home.
Chocolate Cup with Toffee Caramel
By this point, my sweetness tolerance was very close to its limit. I rarely say this. In fact, I had stopped putting sugar in my tea because I was starting to imagine the new cavities forming in my mouth.
Only one chocolate cup had the monogrammed "M" logo, and I let Xak take it to ease my cavity filled fears. The chocolate cup was good and the filling was sweet and I continued to drink the rest of my sugarless tea hoping my next dentist appointment wouldn't be a disaster.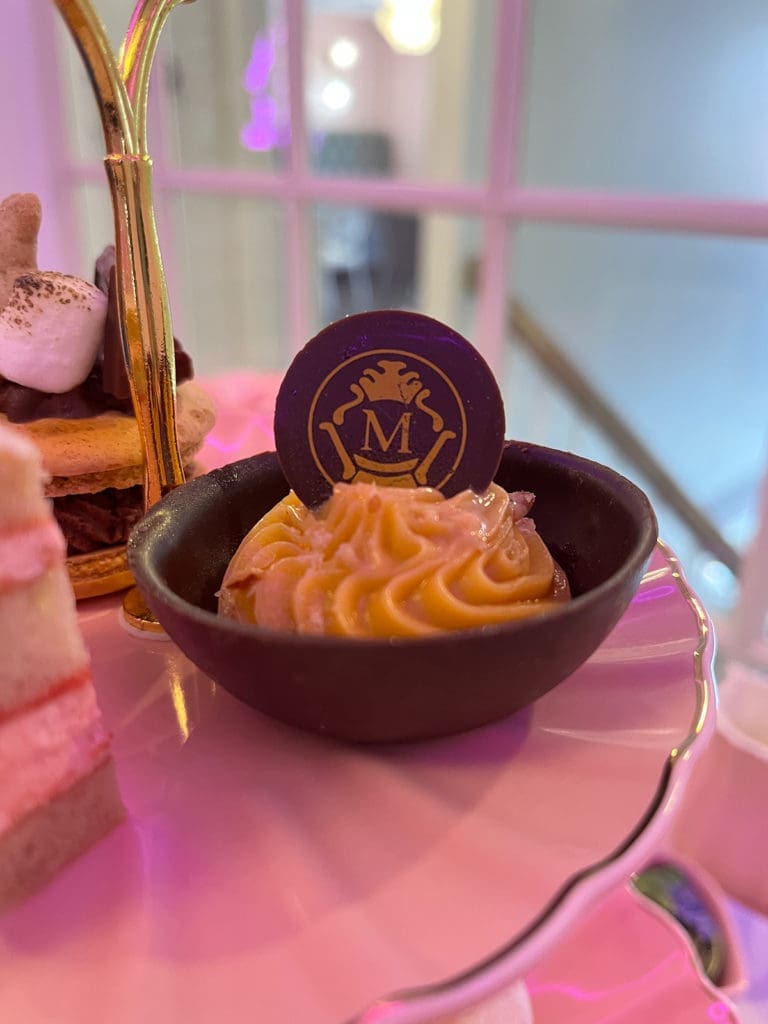 Note: Xak was deep in thought over how to create the chocolate cup. Created by popped balloon? By silicon baking mold sheet? Perhaps this will be a future experiment…
Another side note: Mocatinas really like their logo!
Bathroom
The bathroom is located on the first floor and has a large chalkboard wall listing Mocatinas events. Overall, it's clean and large for a single occupant. (Is there anything else one needs to know about a bathroom? Do people care to see pictures of a tea room bathroom? Please let me know in the comments.)
This little mouse hole was seriously too cute for me not to take a picture. You see it on your way out of the bathroom. Luckily, no mouse.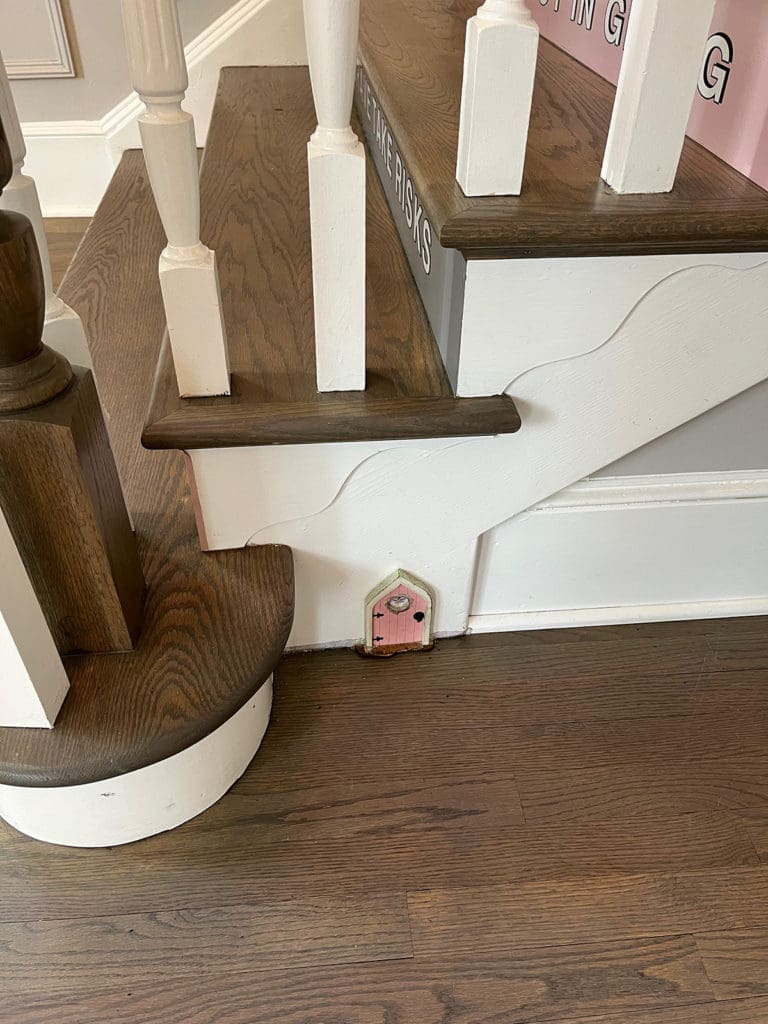 Payment
One of the worst things about new restaurants is not knowing what to do when you're done:
How do you pay?
Where do you pay?
What payment do they accept?
I've read horror stories about restaurants that only accept cash and patrons are forced to use the ATM in the restaurant and pay ridiculous fees because they didn't know the restaurant only took cash.
Luckily, our server came up another flight of stairs to ask if we needed anything else right as I started having these anxious thoughts.
When she brought us our check, she presented two fizzy candies, lemon and orange, which I pocketed for later because I simply could not eat any more sweets.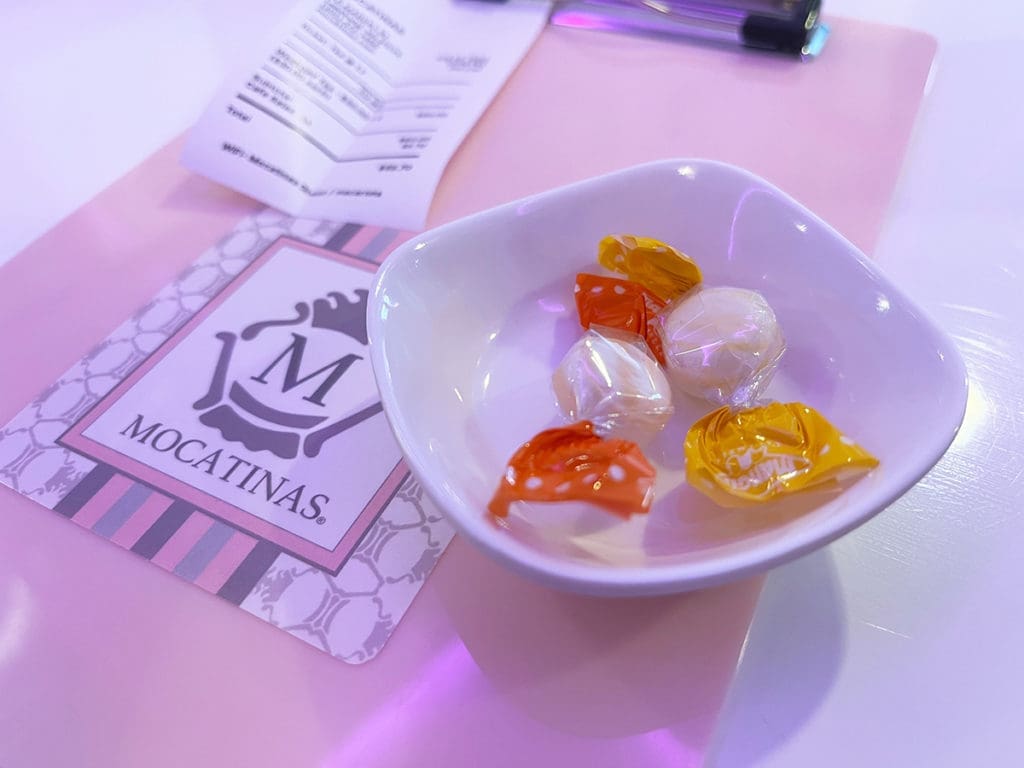 She explained that we could take our check downstairs and pay at the front when we were ready. She also said we still had plenty of time left for our reservation period (about 25~ minutes). I could drink my tea in peace until I was ready to head out.
I then remembered that our parking ticket was going to run out soon, so Xak and I decided to hoof it out of there to avoid paying the insane cost of $1.
At the front counter, you are surrounded by so many sugary sweets as you wait to pay. My teeth started to hurt at the sight which was probably a good thing. It meant I wouldn't be tempted to buy anything else.
There's also a gift area to the right of checkout. Most of these items were not actual food items, meaning safe for me to browse.
Mocatinas accept credit cards and also Apple Pay. We paid our bill with an included 18% gratuity (mentioned on the site) and left.
Note: as of August 2023, afternoon tea is $30 per person on weekdays and $32 per person on weekends.
The Courtyard
As we walked out, I remembered my mental note to check the courtyard that I saw from our upstairs window. The additional seating seemed like a nice place to sit on days that aren't 90+ with ridiculous humidity levels. The little house was even more adorable close up.
Final Thoughts
I liked Mocatinas. Our server was nice and attentive, and I felt well taken care of. This place is an adorable sweets store that specializes in artistic macarons and serves afternoon tea (among many other things). They are not your traditional afternoon tea room, but you will have a great time. If you have a sweet tooth, I guarantee you will find something that will satisfy it there.
Bonus (About that parking ticket…)
So Xak and I totally didn't make it back to our parking garage before the two hours was up. We missed it by about 4 minutes. We figured if we were going to pay $1 for an extra hour because of those 4 minutes, we might as well explore more of Downtown Leesburg and figure out where to go on our next trip here for future reviews. So that's what we did!
Have you been to Mocatinas? If so, tell me what you think!