Pokemon Go Global Fest At Reston Town Center in Reston, Virginia
Xak, Pablo, and I just got back from New York after attending our first Pokemon Go Fest ever, but we still weren't done with Pokemon just yet. This past weekend was Pokemon Go Global Fest!
What is Global Fest?
Instead of PoGo fans gathering in one location (such as Randall's Island Park in New York), everyone around the globe plays Pokemon Go from their own locations from 10-6 local time. There are special research tasks, raids, collection quests, and plenty of chaos.
It is a great way to master multi-tasking.
While Pablo and I were able to level up last week in New York, this weekend Xak's priority was to finally get to level 46. After learning from our mistakes last week, we also wanted to make sure we got several good raids in (and maybe a few Shinies).
Plan
Level Xak up to 46 and use up ALL OUR RAID PASSES (for real)
Although Xak and I have done Pokemon Go Global Fest in previous years, this year's would be a bit different.
The Quest for Community Ambassador
Xak is a devoted Pokemon Go fan including collecting the cards, pins, video games, etc. He is also a devoted walker. He has no problem waking up before 7 am to go for a long walk. Combine this with a game about Pokemon that is all about walking? No wonder this is one of Xak's favorite games.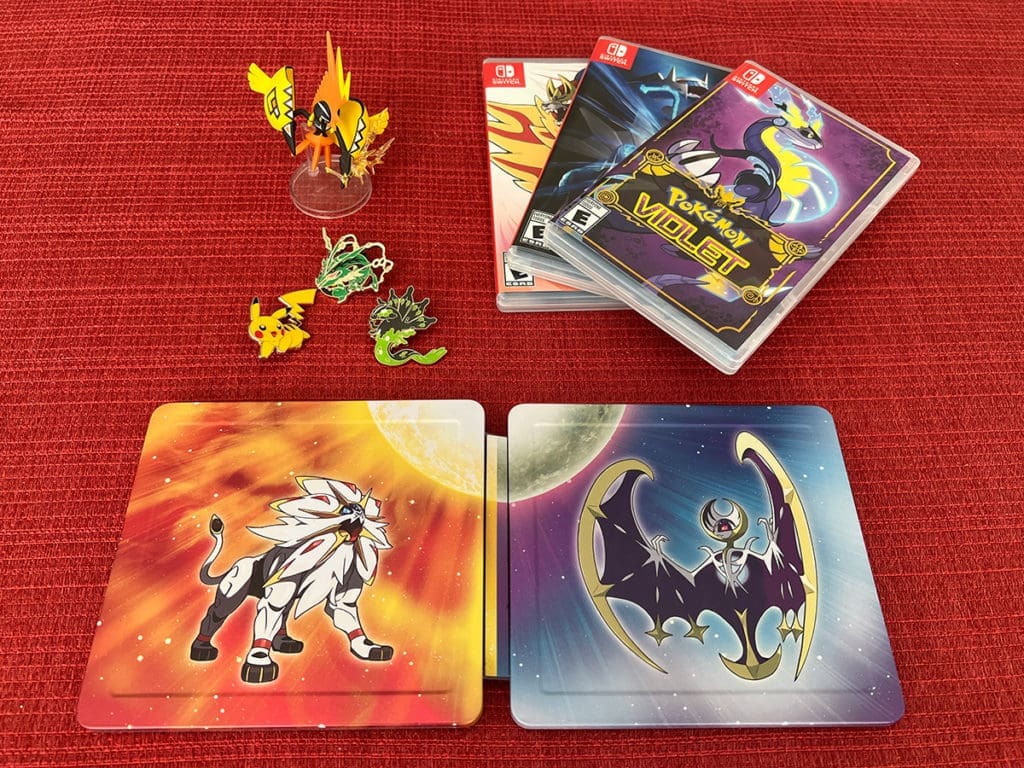 There are several special in-game events such as Spotlight Hours (catching a specific Pokemon for an hour on Tuesdays), Raid Hours (planned raids on Wednesdays), and monthly Community Days.
Community Days are similar to Spotlight Hours when you see the same type of Pokemon everywhere, only it's over the course of 3 hours and held on weekends.
Imagine hundreds of Pikachus out and about, with people wearing Pikachu hats staring at their phones catching them. (Trust me, it's actually a lot of fun.)
During our honeymoon this year, we scheduled time to participate in Squirtle Squad Community Day.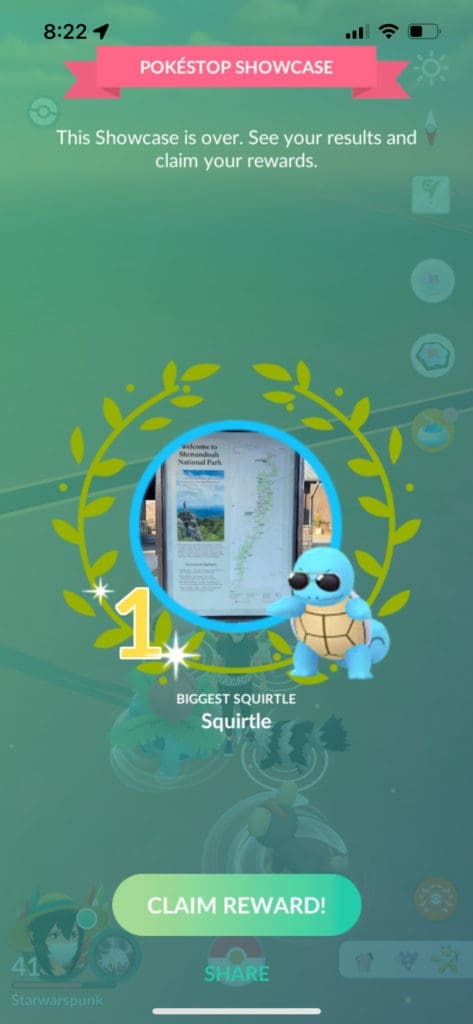 Fun Fact
Xak and I began dating on Squirtle Squad Community Day held in 2018 which is why 2023 Squirtle Squad Community Day was very meaningful to us.
On that particular community day, we were approached by a Pokemon Go Community Ambassador: someone who runs in-person local events and gives out free stuff. Since we just happened to be in the same restaurant as him, we got some in-game items. Pretty cool!
Since we participate in almost every Pokemon Go event, wouldn't it be cool to give out free swag to the players we often run into? 🤔
In order to become an ambassador though, you need to host and coordinate meetups, be social (!), and show participation in the community. Pogo Global fest seemed like a good time to attract a group, and Reston Town Center is the perfect place to find them.
Breakfast at the virginia Kitchen in Herndon, Virginia
We decided to meet at a restaurant called The Virginia Kitchen at 8:40 AM for an early morning breakfast and planning session on Saturday. Xak had scheduled his Pokemon Go meetup for 10 AM, so we figured we would have time to enjoy at least a couple cups of diner coffee (yum).
The Virginia Kitchen is located on Elden Street in the Herndon Centre and is open daily from 8-2. They call themselves "Herndon's Hometown Diner" and serve breakfast and lunch platters.
Xak and I have come to The Virginia Kitchen quite a bit, and I've ordered the same thing almost every time I've gone. My controversial philosophy is that if you like something, why try anything else?
Xak and Pablo have very different philosophies from me and look forward to the restaurant's weekly specials which only appear on their Facebook after 9 PM on Fridays. I know this because I spam the refresh button on Virginia Kitchen's Facebook page on Fridays at 9 pm.
The specials range from cinnamon roll french toast to Black Forest Bacon Platters and there's always a special coffee flavor too like Hazelnut or Blueberry Muffin.
This week's specials were the following:
Corn Bread French Toast – grilled homemade cornbread dipped in egg batter, topped with blackberries, powdered sugar, blackberries and honey drizzle, served with ham, bacon, sausage, or fresh fruit.
Croissant Breakfast sandwich – a flaky croissant filled with scrambled eggs, a slice of American cheese and either bacon or ham, served with a side of hash browns.
Jamaican Me Crazy – coffee of the week
At 8:40 AM, we arrived and were seated in a back corner of the restaurant along with our respective coffees and cream. Since we already knew the specials in advance, we ordered immediately.
Xak got the Corn Bread French Toast with an extra side of scrambled eggs, Pablo got the Croissant Breakfast Sandwich, and I got my normal order, the Little John Breakfast which included bacon (or ham, or sausage), eggs (at restaurants, I like mine over hard), hash browns, and a biscuit (or toast or english muffin).
As our orders were put into the kitchen, we promptly began discussing today's plan to level Xak up and to not relive our mistakes from last week's Pogo Fest. Today was going to be all about RAIDS RAIDS RAIDS!
We also wondered how many people would show up to the meetup. Xak had created one in the Niantic Campfire app and there were about 10 RSVPs last I checked, however in my experience, just because someone RSVPs doesn't mean they'll actually show up 😞
Our food arrived, as did our coffee refills, and we dug into our meals.
Everyone was satisfied with their breakfast although there was uncertainty as to the how the special coffee of the week got its name. The other surprising thing was how plump the blackberries were. I've never seen these at the grocery store 🤔
I also sadly did not get a single bite of Xak's grilled cornbread, but he enjoyed it immensely. I like corn bread, but I normally eat it with some pulled pork or chili. Xak said that the corn bread dish was very sweet, almost like dessert.
We saw that it was close to 9:40 AM and needed to start heading out to Reston Town Center. It's only about a mile or two away from the restaurant, but since Xak was coordinating the event, it's better to be early than later. Besides, what if a raid dropped while we were still parking?
We headed to the front of the restaurant to pay our bill, get into our cars, and drive over.
Reston Town Center
Reston Town Center has been around for a long time. There's been quite a few changes over the years, particularly with stores and restaurants moving in and out, but it's always been a great place to play Pokemon Go.
On the weekends, some of the roads that run through the center are often closed off, making it a (fairly) safe area to play PoGo. There's also a ton of lures, stops, and about 6 gyms, making it a very attractive place for people to come play.
The Yellow Sculpture
After parking in one of the RTC parking garages, we hoofed it over to the iconic Yellow Sculpture in front of the Hyatt hotel.
Xak's meetup was set to start at 10 AM at the Yellow Sculpture. It was 10 AM. The only people there were Pablo and me and unfortunately that wouldn't be enough for any of the primal raids we were hoping to do. I quickly looked at the map and spotted some 1 star Goomys. Maybe we could just do those instead?
As I began to worry, I noticed someone heading over to us. And someone else. And someone else! We were starting to form a little crowd! We decided to wait for about 10 more minutes at the Yellow Statue before heading off to the first raid. We had around 7 people which is a decent number (better than 3). As we started walking to our first raid, someone else ran up to join us.
Person: "Is this the meetup?"
Xak: "Yes!"
Me: *sighs with relief*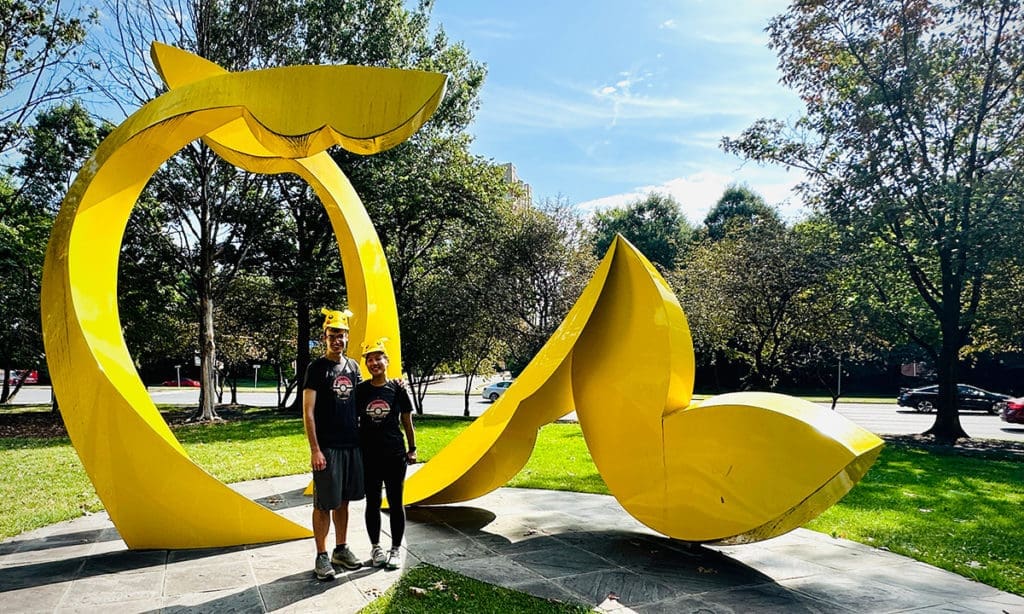 Xak and I proudly wore our Pikachu hats and our pre-ordered Pogo Fest shirts to the Global Fest event

This is my character in the game. I think I did a pretty decent job dressing like her.
I'm not sure what gave it away that we were playing Pokemon Go 🤣
Primal Groudon and Primal Kyogre Raids Galore
In total, our group did over 15 raids over the course of 2.5 hours! I know this because ticket holders had access to 9 free raid passes (after a photo disc gym spin), and I had started the day with 1 orange pass and 5 green passes for a total of 15.
The turnout was great. It wasn't quite New York level (can't really compare to 70000~ attendees), but we had at least 2 raid groups at every gym. Several people joined our raid train throughout the town center.
Everyone I met was friendly and congratulating each other for their shinies, excitedly chatting about the awesome catch rate during today's event, and their overall genuine joy to play the game.
In reality, I was totally jealous of all the people who got shiny Kyogres, shiny Bellsprouts, shiny hat Snorlax, etc. 😄 I got NONE of those! In fact, the only shiny I got was a random Lapras I accidentally but fortunately clicked on.
Regardless of my crappy luck, it was great to see the turnout and that PoGo is still well and alive in Reston. At one point Xak announced we were going to take a 30 minute break to use the restroom, find some water, or in Pablo's case buy some ice cream. We requested for everyone to meet back up in front of the fountain after the break.
Due to my minimal faith in people, I honestly thought people would bail. To my surprise, nearly the entire group returned!
Xak's meetup was scheduled for 10-2 and by 1:30, I was getting hungry and I was out of raid passes. We said goodbye to all our new in-game friends, and then we headed to our car to go to lunch. It was a great time!
Lunch at On the border in Reston, Virginia
I'm not sure if "Pokemon Go Fest" will always include "Taco/Burrito lunch" but I won't be opposed to this newfound trend. I haven't been to On the Border in years and there are only a few of them in Northern Virginia, including Reston. A few years ago, I had obtained a coupon exclusive to the restaurant and I figured today would be a good day to finally cash in.
We were all excited to sit down in a room with AC, drink some ice water, and eat some food. After walking 5 miles, my breakfast was completely forgotten.
After we sat down, there was already a noticeably big difference between this week and last week's lunch: free* chips and salsa!
*One can argue that the chips and salsa aren't actually free: they're part of the meal cost. However, it is nice to be able to eat something while scanning the menu without having to order and pay for it separately.
On the Border's chips are basically half tortillas. They're also quite sturdy and can support any amount of salsa on them.
Fun Fact
Xak, Pablo, and I are part of a local Nacho Club where we try out, rate, and review nachos (and sometimes tableside guac) from different restaurants. We are very particular about our chips!
The salsa here has a little bit of a kick to it. It's not just pico de gallo (which I do love), or some liquidy tomato concoction. We were also served 3 individual bowls of it so I could double dip to my heart's content.
I haven't been to On the Border in quite some time and the menu was a lot bigger than the menu we saw last week. However, after independently reviewing the menu, all of us simultaneously blurted out to each other about the "Gran Papi"
According to the menu's description, the Gran Papi is the following:
Cheese quesadilla, chicken tinga enchilada with sour cream sauce, crispy or soft seasoned ground beef taco, chicken flauta and beef empanadas. Served with Mexican rice.

-The Gran Papi (according to the On the Border menu)
Sounds delicious!
It also sounds like maybe a bit too much food for me if I wanted to be responsible.
My Love for Empanadas
My normal go-to order at chain Tex Mex restaurants is 2-3 crispy beef tacos with refried beans and rice depending on how hungry I am. However, whenever I see "empanadas", I go a little nuts. Xak and I have made empanadas before and they ROCKED! They're also a huge pain in the butt to make, which is why I am always on the lookout.
Whenever I go to a Farmer's Market, for some reason I always make a beeline for the empanada vendors. I greatly enjoy a wrapped dough parcel of meat, spices, potatoes and/or vegs. This includes samosas, dumplings, cornish pasties, meat pies, etc. I could eat any of those things everyday.
Not every chain place has an empanada on the menu, so when I see it, I want it.
When the server came back, we all ordered, and I "responsibly" decided on the Pick 3 combo (Beef empanadas, crispy beef taco, and a chicken tinga enchilada) which came with rice and refried beans (another positive difference from last week).
Pablo ordered the Birria Beef tacos which consisted of barbacoa, cheese, onions and cilantro, surrounded by a crispy fried tortilla. It also came with a beef consomme for dipping.
Xak ordered the Gran Papi.

Lunch was pretty good, but realistically I didn't need the enchilada. Other than fried chicken (which I am crazy for), I'm not a huge chicken fan.
I also actually ended up saving one of my empanadas for later since I was full. Perhaps I hadn't totally forgotten my breakfast.
We ended up sitting there drinking the ICE cold water, spinning the On the Board Mural Pokestop, and as we waited for the bill, Xak leveled up!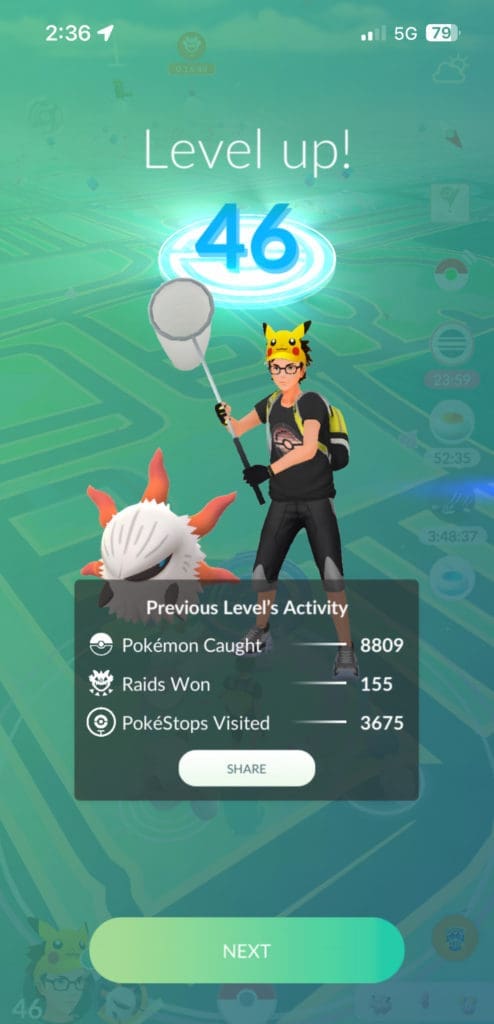 Today was another successful PoGo day with delicious food and enjoyable company! Looking forward to more Pokemon Go adventures soon and hopefully even more tasty tacos.