Coffee Shop Review: Caffe Amadeus in Indiana, Pennsylvania
I love 3 day weekends! It's a chance to catch up on some crafting, reading, cleaning (mm…) or do a little traveling. For the long weekend, Xak and I decided to head up to Pennsylvania.
When Xak and I are on the road for more than 2 hours, we usually do one of two things:
Stop at Sheetz
Visit a coffee shop
On this particular trip, we did both.
After picking up some potstickers and Airhead Extremes from Sheetz (yes, it's an odd combo), we decided to visit a coffee shop called Caffe Amadeus in a town called Indiana, Pennsylvania.
Indiana, Pennsylvania: The home of Jimmy Stewart
The town of Indiana, Pennsylvania proudly considers themself "the Christmas Tree Capital of the World" as well as the hometown of Jimmy Stewart, the actor who played George Bailey from It's a Wonderful Life.
Like most people with network TV, I've watched The Ten Commandments during Easter and It's a Wonderful Life during Christmas. I know both films pretty well yet I still cry during the pivotal moments. I enjoy the comfort from these classics.
Indiana is clearly proud of being the home of Jimmy Stewart. There is a museum located in the library, as well as Pokestops that reference the actor.
The crosswalks in downtown Indiana even feature Jimmy Stewart (more accurately, an impersonator) announcing when you're ready to cross. The first time I heard it, I was so taken aback, I did not cross. The Jimmy voice told me to "take my time" and then counted down for me to hurry across the street. Instead, I decided to capture it on video.
Unfortunately, since we were only planning on visiting the coffee shop, we did not have a chance to visit the museum or explore too much. I'll have to come again to see if I can buy Zuzu's petals as a souvenir from the gift shop.
Downtown Indiana has several stores, eating establishments, and historic buildings. The Indiana University of Pennsylvania campus is also nearby.
As we walked down Philadelphia Street (safely, thanks to Jimmy's voice guiding us), I heard the sounds of church bells and noticed lots of murals on the sides of the buildings. I found more information about the murals on the Indiana County Tourist Bureau website.
I was also intrigued by this pizza challenge. Maybe next time.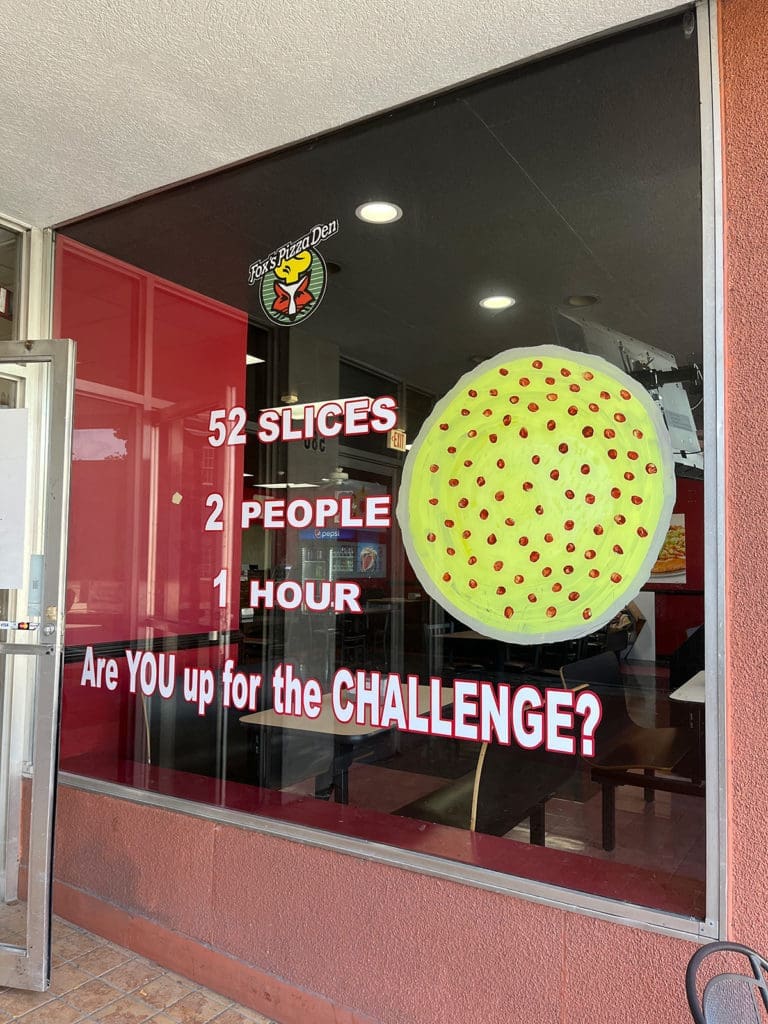 Caffe Amadeus Location, Hours, and Parking
Caffe Amadeus is located on Philadelphia Street next to a Mexican restaurant and across the street from the Indiana theater.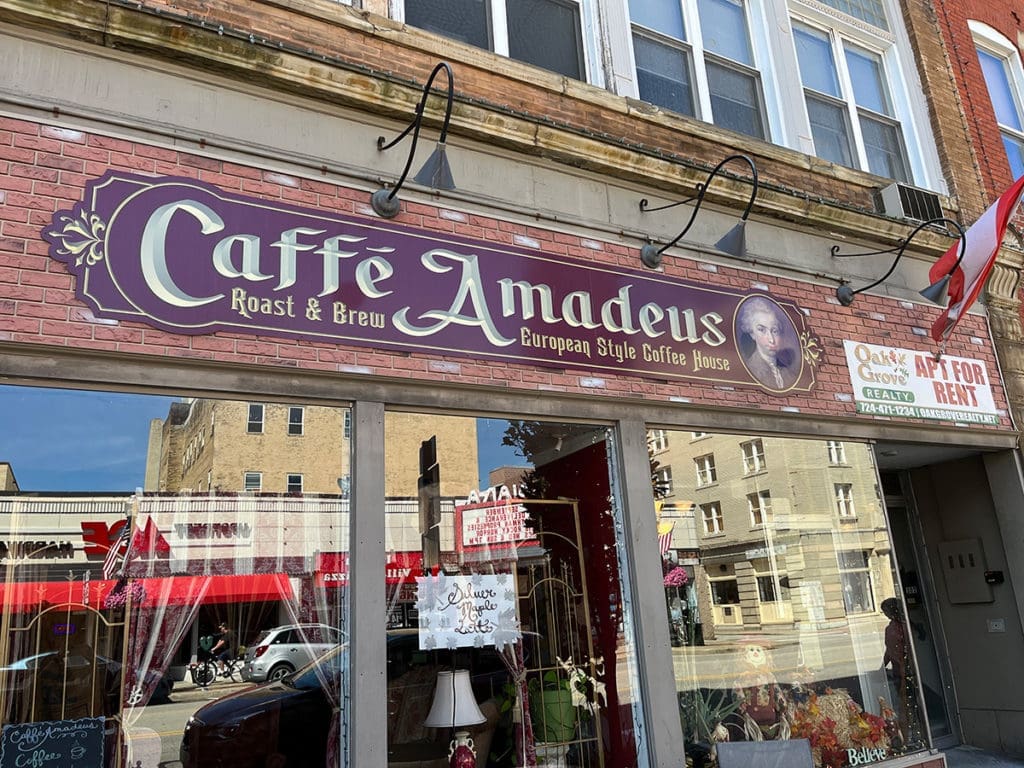 The hours for Saturday are 9-2, but these can be affected by holidays. Since they don't have an official website, I recommend checking their Facebook page for any updated hours before heading over there.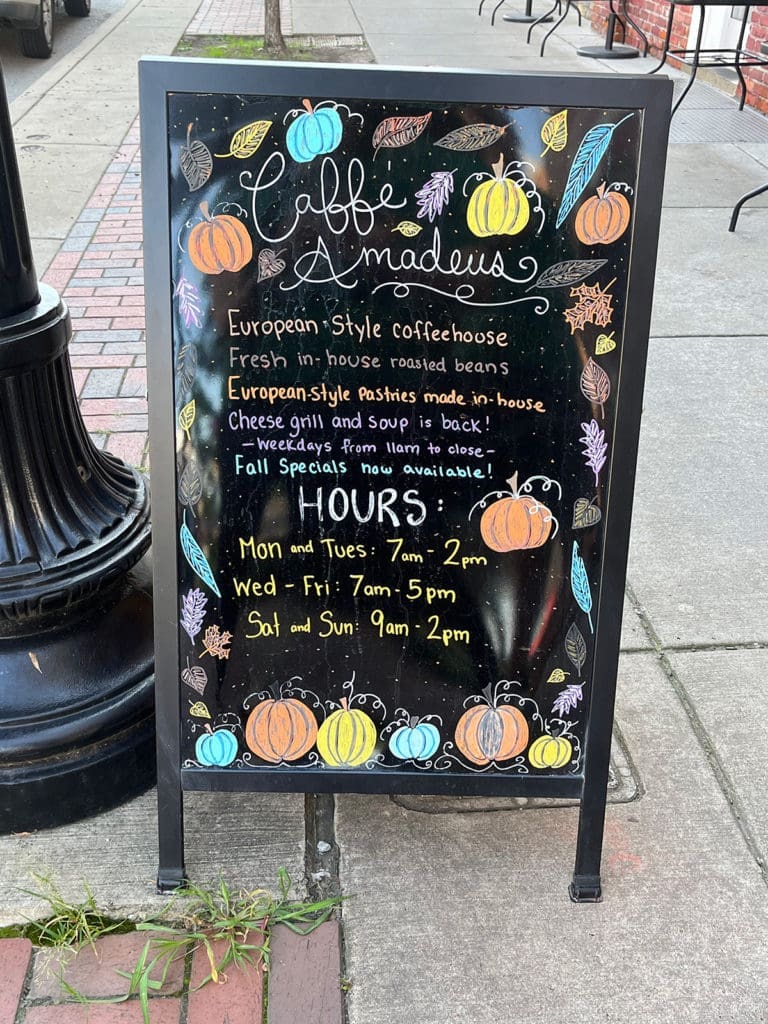 Make sure to bring some quarters: Philadelphia Street has metered parking. Since we arrived around 11 AM, we planned to be here for about 1-2 hours: enough time to pay with the quarters we had and also to enjoy our coffee. Hopefully, the shop wouldn't be too busy. 🤞
Caffe Amadeus Interior
Naturally, the shop was busy. The moment I entered, I saw a line waiting for orders near the checkout counter. That's not a bad sign though. It just meant this was a popular place to drink coffee.
Caffe Amadeus describes their shop as a European Style coffeehouse.
I can't comment on the authenticity of that statement since I have never been to Europe before (I know, I should correct this), however, I loved the vibe of this shop!
As someone who trained in piano growing up, I appreciated the nods to composers I played over the years. Although the shop name is an obvious tribute to Mozart, other big names were represented including Beethoven and Haydn.
If this coffee shop was in the Sims, the environment score would have been at max. This also means if you are a minimalist lover, the decor might seem a little cluttered to you. I personally loved it all.
Surprisingly, the music playing in the background was NOT Mozart, classical, or even instrumental. I heard a collection of indie songs with non-English lyrics and while I didn't recognize any of the music, I enjoyed it. It wasn't distracting, and I felt it was appropriate for the coffee shop's style.
There were couches for lounging and enjoying conversation, as well as tables to work. There were also two semi-private areas for larger groups behind a screen, and a special table on a raised pedestal with Amadeus (the 1985 Oscar winning Best Picture) decor.
The coffee shop had such a wonderful, cozy atmosphere. It was very pleasant and I felt relaxed.
Caffe Amadeus Food Menu
Before getting in line, I spent a long time in front of the pastry counter examining its contents. While I saw some coffee shop staples such as paninis and bagels, I was intrigued by the unique offerings I had never tasted before.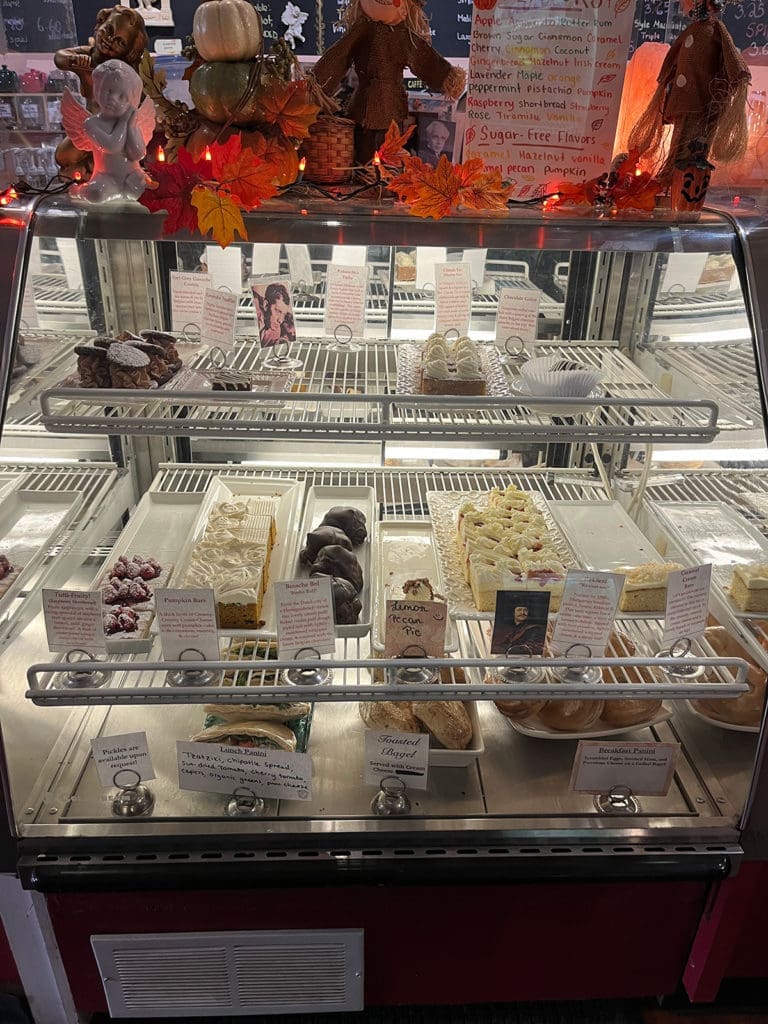 The display had signs without accompanying plates, such as the Kokoschka Torta and Lavender truffles. Since the shop had already been open for a few hours prior to our arrival, I figured they were sold out of these items. Too bad.
Xak is typically a sucker for all things pumpkin (and s'more). Surprisingly, he did not want the pumpkin bar.
When I asked why, he remarked that he was interested in trying some of the European style desserts that we don't necessarily have in our local coffee shops. Fair point. The pumpkin bars did look good though.
After carefully reading the descriptions, Xak and I decided on the Earl Grey Ganache Cookie and the Citrom Ter.
Note: We asked about gluten free options (out of curiosity), however the worker we spoke to was unsure that anything was completely gluten free.
Caffe Amadeus Drink Menu
The drink menu is large. In fact, I could not fit the drink menu into one single picture.
There were plenty of options on the menu with names such as a Grizzly Bear (Dark, chocolate and peppermint latte) and a Black and Gold (Dark chocolate & caramel sauce latte).
As you may know by now, I do not consider myself a risk taker. That is why I often opt for mochas at coffee shops. Mochas are reliable and delicious.
However… I am easily swayed by seasonal menus. Caffe Amadeus had prominently displayed their autumn offerings as soon as you step inside the store.
This strategic placement definitely works on their target market (aka me).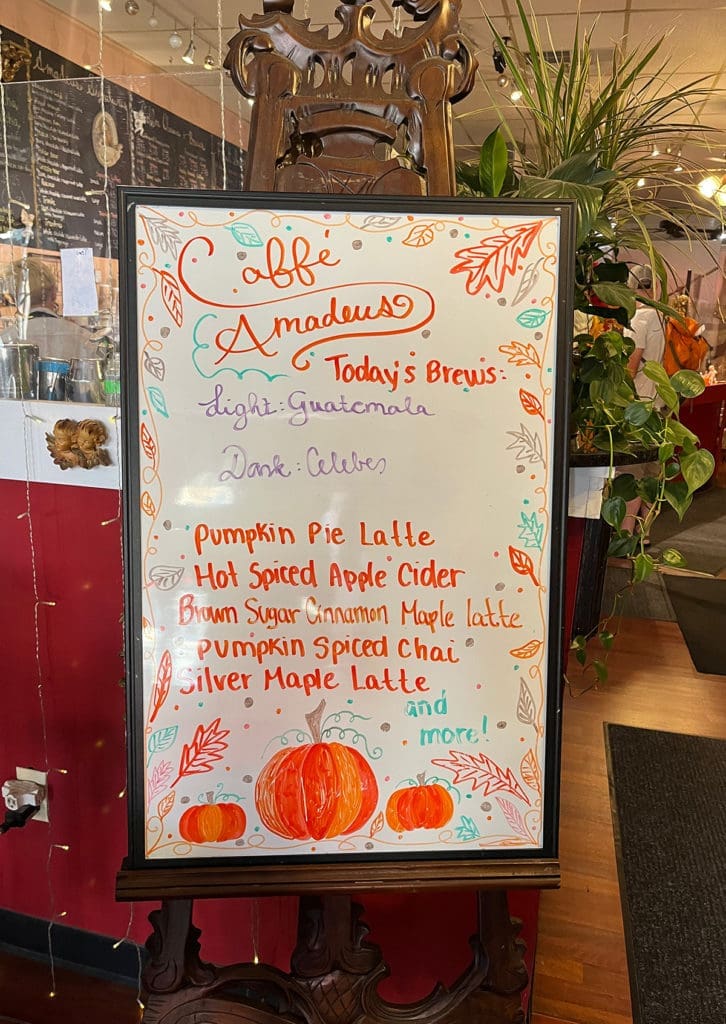 When it comes to seasonal menus, I have no shame in saying this: I love PSLs (Pumpkin Spice Lattes) from Starbucks. The smell of a PSL is synonymous with the coming of Fall. That is why I treat my first PSL of the season as a special ceremony. The first PSL cannot occur when the weather is still 95 degrees or more.
As I reviewed the specialty drinks, I was intrigued by the Silver Maple Latte. I can be stubborn (if Xak is reading this, he's probably nodding his head), and I'm not willing to compromise on prematurely drinking a pumpkin flavored beverage before my ceremonial PSL. However, "Silver Maple" would still allow me to indulge in a fall flavored drink.
Xak, on the other hand, chose the Pumpkin Pie Latte. Clearly he doesn't have the same ritualistic views on tradition as I do.
Seating Area
After placing our order at the counter, Xak and I agreed to split up duties: he would wait for our order near the checkout counter while I scoped out a good place for us to sit.
As I entered the seating area, I saw I had a ton of options.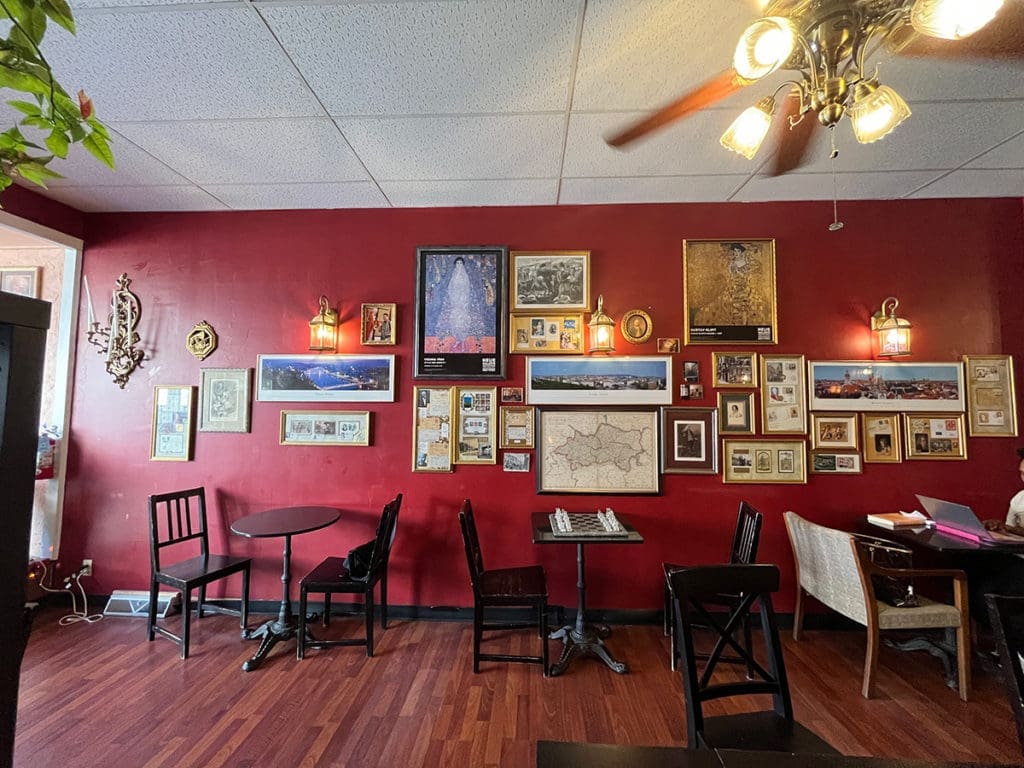 Although the couches looked comfortable, I prefer sitting at a table when I'm eating and drinking. It minimizes crumb droppings and the chance of me spilling coffee all over my lap.
There were several open tables for two and I selected one near the front of the restaurant. Since the walls were adorned with plenty of artwork, newspaper articles, mementos and memorabilia suitable for a scrapbook, I passed the time easily at my table engrossed in the wall art as I waited for Xak to arrive with our food and drinks.
Eating and Drinking
Xak turned the corner precariously carrying a silver platter laden with our coffee and treats. It was a beautiful sight! I felt bad that I chose the farthest table possible, but I knew Xak would like the location. With full concentration, he successfully arrived with our tray without spilling a drop.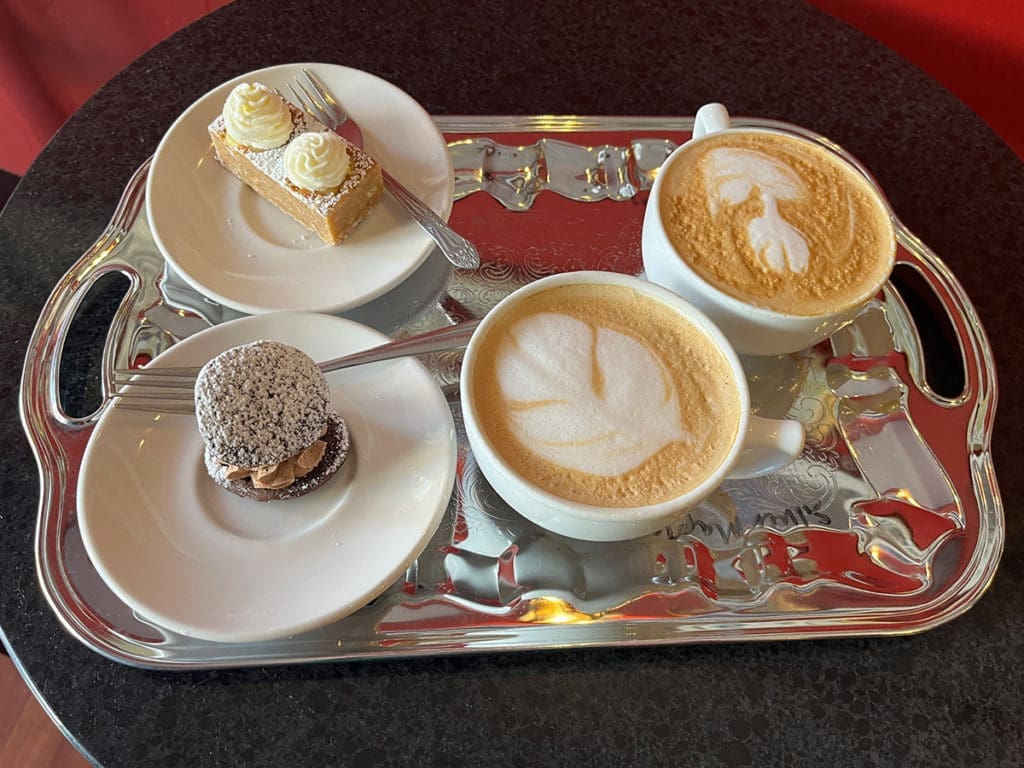 As he unloaded the tray, I noticed the tray was marked with our drink names so we knew which was ours. Since we were dining in, our coffee was served in actual cups and the desserts were on real plates with silverware.
I was also very pleased to see latte art on top of our cups.
Silver Maple Latte
Although I was keen on ordering the Silver Maple latte, I don't often eat maple flavored food. I'm surprisingly not a fan of most breakfast foods like waffles or pancakes that actually use maple syrup. My only real experiences with maple are Maple creme Oreos, maple donuts and those maple flavored candies in the shape of a maple leaf.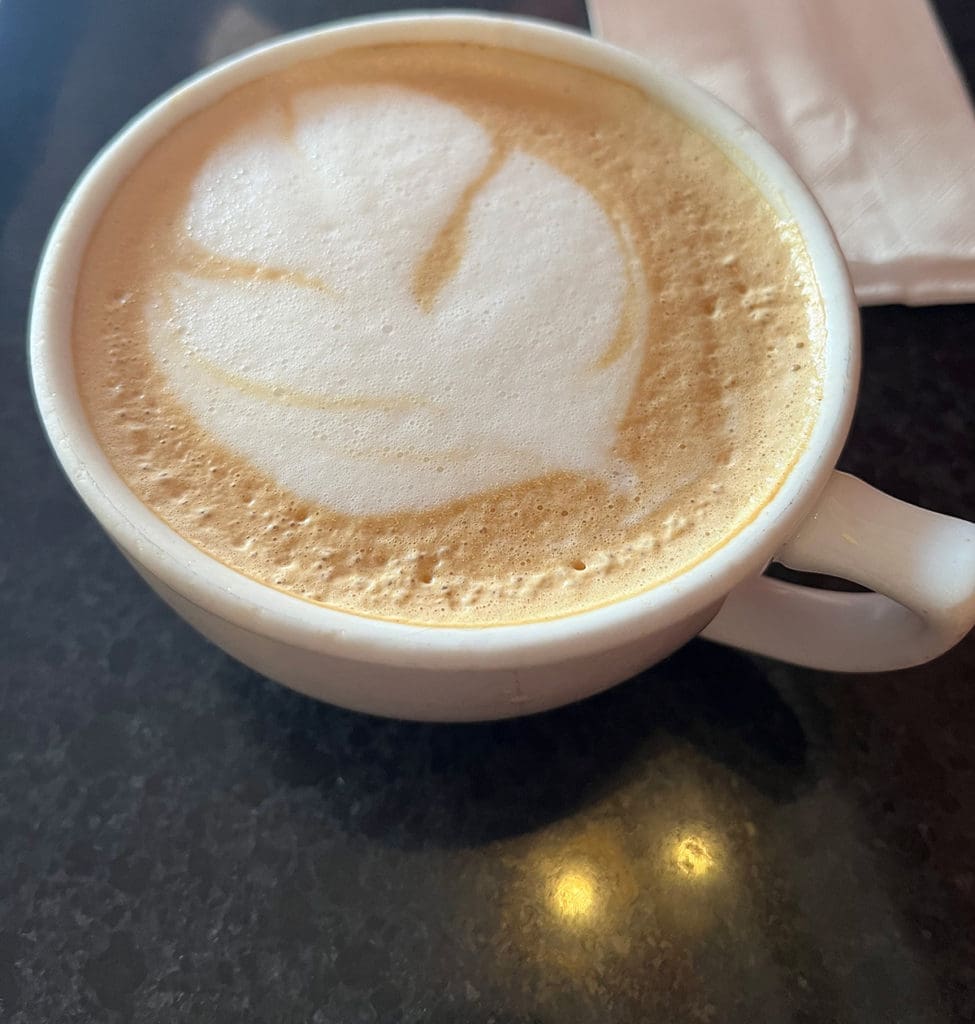 I would describe maple flavor as … sweet. However, it's a different kind of sweetness from plain, white sugar. More like caramel or brown sugar, although even that's not fully accurate. I'm struggling to place the words. I'm still expanding my food vocabulary.
Regardless, I would not have been able to identify this as a maple flavored coffee drink if I had no prior knowledge of what I ordered. It was a sweet beverage that was pleasant to enjoy in such a comfortable shop, however it lacked the distinct maple flavor I was expecting and am unable to describe.
Pumpkin Pie Latte
Xak's Pumpkin Pie Latte however was delicious and tasted just like fall. The smell was heavenly and reminded me of being outside on a crisp, October night. After a few sips of his drink, I sadly handed it back to Xak. While I wasn't unhappy with my drink, I think I would have been happier if I ordered the same thing as Xak!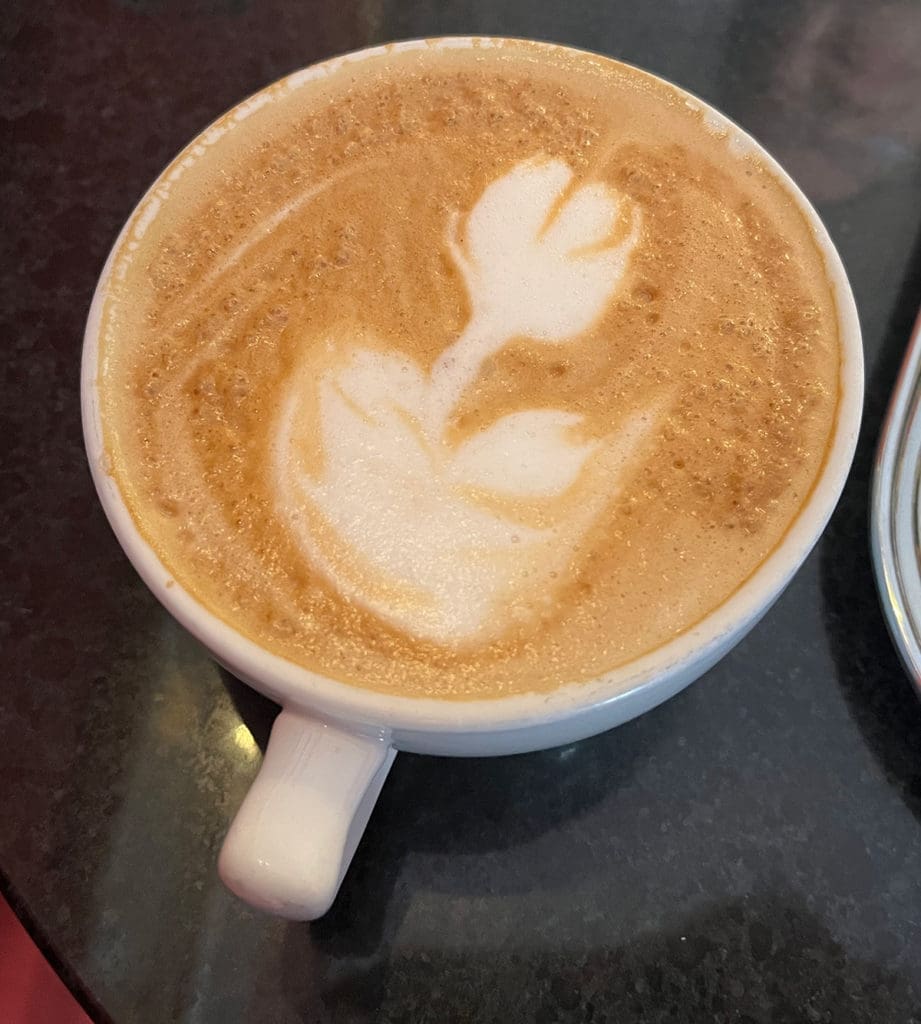 After tasting and appreciating our drinks, we decided to try the Earl Grey Ganache Cookie.
Earl Grey Ganache Cookie
Like Captain Picard, Xak and I both love Earl Grey tea. Xak had even recently made some Earl Grey flavored cookies himself.
Upon first glance, it looks like a fancy macaron, but it's actually two cocoa cookies dusted with sugar, sandwiching hand-blended earl grey tea leaves with Belgian milk chocolate.
The cookie caused us to pause and ponder: how does one eat this? We were supplied forks, however the shell of the cookie was not easy to cut into. If I took a bite of the cookie, it would likely crumble and Xak may not have a chance to eat his half.
Our Solution: split it in half. Vertically.
Xak and I ate one half of the cookie with filling on top. As I tasted the ganache filling, I was thrown off by the bitterness. Meanwhile, Xak commented on how sweet the cookie was and I was astonished. I then realized that my drink was the culprit for throwing off my taste buds.
Xak went to retrieve some water for us (free, in a glass) and as I tried the cookie again with a clean palate, I was pleased with the taste. Both the cookie and the filling were good. I think I would have preferred if I had eaten it with another cookie on top, sandwiching the filling as intended. Chocolate with maple is not my favorite pairing, however I liked having them separately.
Citrom Ter
The Citrom Ter reminded me of a lemon bar. I am a HUGE lemon fan. My favorite grocery store tea is I Love Lemon from Bigelow. I put lemon in my water. For some of our previous afternoon teas, I've made lemon bars, lemon cakes, and even lemon and blueberry donuts with varying degrees of success. 
As I cut into the Citrom Ter and took a bite, I was pleased with the lemon flavor, and the lemon zest on top of the dollops of whipped cream.
However as I ate another bite, I was surprised to taste… chocolate? Now that is not something I would normally pair with a lemon dessert. I also do not recall seeing any mention of chocolate in the description. (I checked again: it does not say chocolate)
After the initial surprise and adjusting my expectations (me: "this is not a lemon bar"), I finished my half of the dessert. It was tasty, however I again think it was better separate from my maple flavored drink.
The pairing of my Silver Maple Latte with the two desserts was a bit odd, and I am grateful that we were able to neutralize the flavors with sips of water in between.
After we were finished with the food, we discussed the rest of our plans for the day while we lazily drank our lattes, leaf shaped foam and all.
Restrooms
As always, I stop by the restroom with every coffee shop and tea room I visit. Other than the obvious use of a restroom, I also like noting any interesting decor, reading material (ew), and cleanliness.
In the case of Caffe Amadeus, the bathroom was located in the back of the restaurant and while I don't recall the artwork in there, there was a blocked off chaise lounge which threw me for a loop. Like the proverbial couch in the woman's bathroom except it's actually there.
Sorry, no pictures. You'll have to see it for yourself.
Final Thoughts
Overall, I really loved the vibe of this place. This was a very unique experience and I could definitely see myself coming back and enjoying some coffee, treats, and good conversation. If I'm ever in the Indiana, PA area again, I'll likely return and try out a mocha and a more traditional dessert.
Bonus: Pokemon!
Before we left Indiana, PA, we checked out the Pokemon Go situation on the IUP campus. Looks like there are some Pokemon fans, just like us, here too!
Have you been to Caffe Amadeus? If so, what did you think?