Tea Room Review: Afternoon Tea at The Tea Cart in Berryville, Virginia
Over the years, my husband (Xak) and I have visited several tea rooms and hosted our own afternoon teas at home (with just us). When we first started, we had NO IDEA what we were doing. We didn't even own a proper tea set. Our scones were oddly shaped, our sandwiches were bulky, and our desserts were the complete opposite of delicate.
We've had lots of practice over the years and while we're still not pros, we've definitely refined our technique. We've also gained a lot of appreciation and admiration for the professional tea rooms we have had the pleasure of visiting.
In July 2023, Xak and I spent our honeymoon in the Shenandoah Valley region and we wanted to visit two tea rooms on our trip. The first was Miss Minerva's in Culpepper, Virginia. The second was on our last day of our honeymoon, and a place we already visited in June 2021: The Tea Cart in Berryville, Virginia.
About the Tea Cart in Berryville, Virginia
The Tea Cart is a British tea room that opened in 2014 in Berryville, Virginia. Berryville is considered northern Shenandoah Valley. It's close to the West Virginia border and a little over an hour from Washington D.C.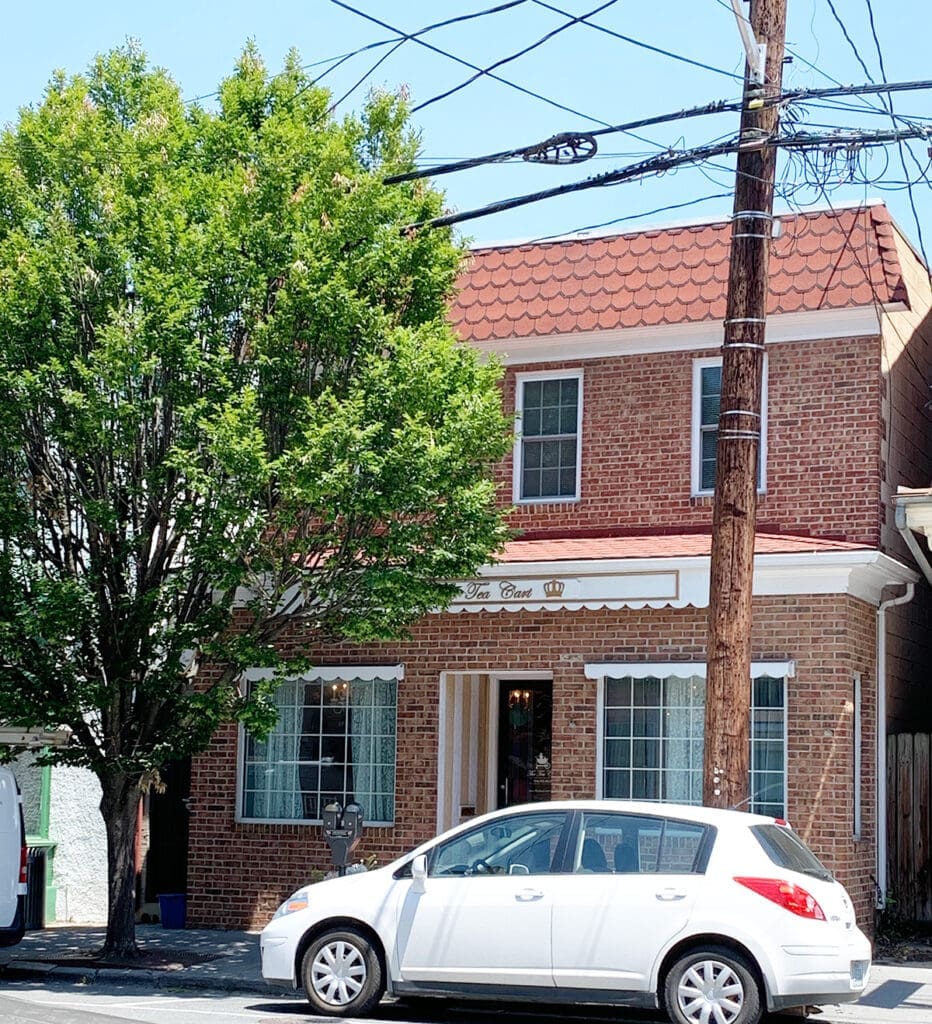 The Tea Cart hosts several themed tea events throughout the year and have house blended teas and small gifts for purchase. Catering services are also available.
NOTE: The Tea Cart recently opened a new location in Winchester, Virginia. When making a reservation and putting the address into GPS, make sure you choose the RIGHT location!
Pay attention to your reservation!
The Tea Cart has TWO locations. Take careful note when making your reservation.
Reservation Process
You can make a reservation through the website via the Tock platform.
The Tea Cart is open from Thursday – Sundays and has two available seatings: 11 AM and 2 PM. 11 AM is the family friendly seating, meaning kids under 11 are able to attend whereas 2 PM is for kids over 11 and adults only.
The Tea Cart also does themed tea events such as Harry Potter or Lord of the Rings. You can see all scheduled tea events prior to making a reservation. These events require a deposit upfront during reservation whereas a regular afternoon tea does not require a deposit.
Upon placing your reservation, you select your desired menu.
It's a set seasonal menu, so while you aren't able to choose the exact food, you can select between the large afternoon tea (known as The Royal Ascot), the traditional afternoon tea (known as the Duchess of York), and can also select dairy free, gluten free, or the vegetarian set menu, if desired.
You can view all the menu options and current pricing on the Tea Cart menu page of their website.
Parking
There is metered street parking available in front of the tea house and on the adjacent streets. We parked on one of the side streets where we found plenty of parking and it was only a short walk to the restaurant. There is a 2 hour parking maximum at these meters on weekdays with free parking on weekends and holidays.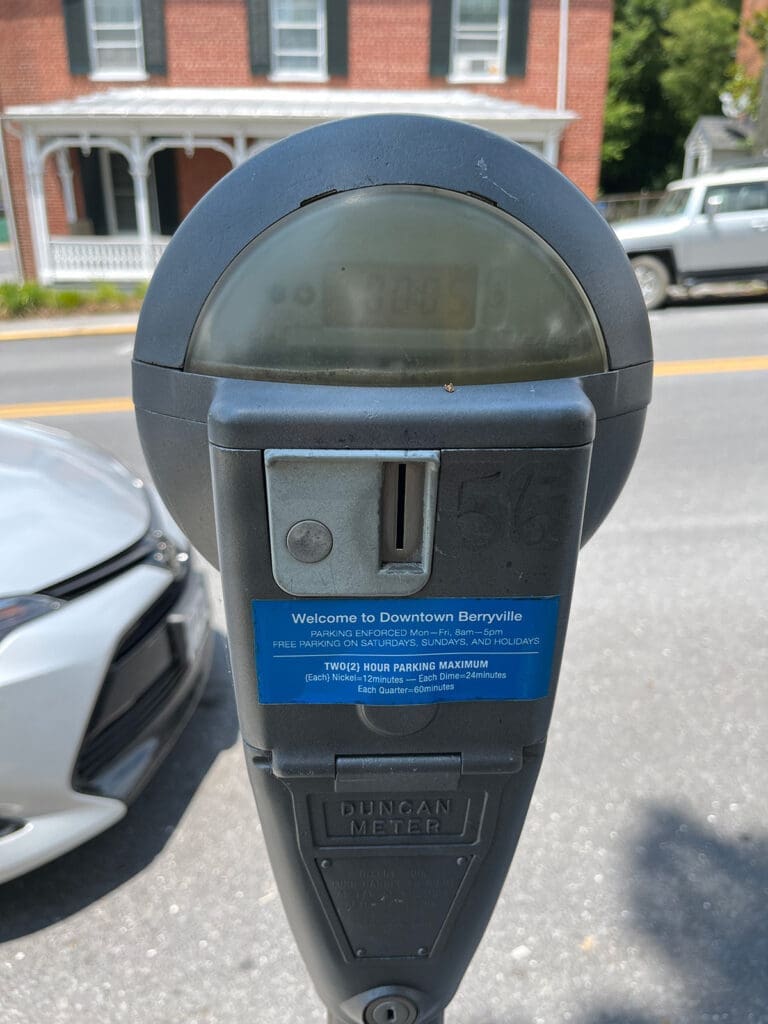 A nickel gets you 12 minutes, dime is 24 minutes, and a quarter is 60 minutes. Two quarters should have you covered.
Tip: Bring Quarters!
Reservations are around 2 hours so you'll need 2 quarters for your visit.
The Tea Room
Upon entering the tea room, we waited at the front podium to be seated. After our reservation was confirmed, we were led to a table in the front corner of the restaurant.
We were asked if we were celebrating an occasion such as an anniversary, and we proudly mentioned we were on our honeymoon. A collective 'aww' sounded throughout the room from the workers and the guests who overheard and we saw hands flying to hearts. 😄
I usually get slightly embarrassed when there's attention on me, but since we were in the literal "honeymoon phase", I was just feeling happy. 😊
Decor
The interior of the tea room is pleasantly decorated including teapot and tea cup chandeliers, fresh flowers, flowered curtains, and hats available for patrons to wear, if desired.
The tables had mismatching place settings, which I greatly appreciated. Tables had different tablecloths and a mix of wooden or Chiavari chairs.
I nearly lost it when I saw the teaspoon had a little teapot on it. I love little details.
Background Music
As we were waiting for the food, I heard string covers of popular music including U2, Elvis Presley, and Taylor Swift. Every song always sounds classier as a string cover.
In my 2021 visit, I recall hearing instrumental movie soundtracks like the Chronicles of Narnia. All in all, expect some relaxing music that contributes to the idyllic surroundings.
Tea Selection
The Tea Cart offers a very extensive tea menu with descriptions and a "bottomless tea pot policy." The server explained that we were able to try out different types of tea if we desired throughout our meal.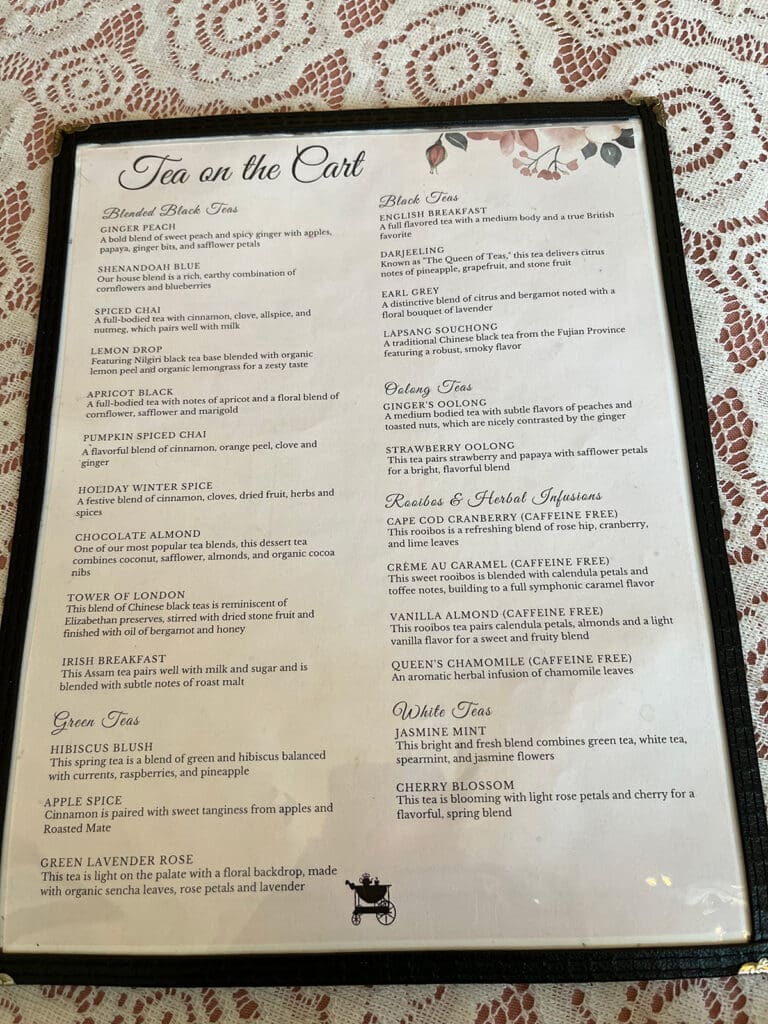 I decided to start with my standard English Breakfast. There were a lot of yummy sounding flavors and I was grateful that I would have the opportunity to try out additional teas.
Xak surprisingly started off the meal with Irish Breakfast. We don't drink too much Irish Breakfast at home unless we've purchased a Twinings variety pack. We were recently gifted a Fortnum & Mason box of Irish Breakfast tea, so I foresee plenty of Irish Breakfast tea consumption in our future.
The Tea Cart uses tea leaves in the teapot as opposed to tea bags or sachets. Each guest has their own strainer, which you place on top of your cup to catch the leaves.
There is also a tea timer on the table to time how long you should steep your tea (3-5 minutes). This ensures you achieve the desired strength based on your preference.
At home, I like to use a combination of teabags or leaves in my Death Star tea infuser along with my Google Home timer to make sure I take out the tea at the right time. The sand filled tea timer is a great way to get a perfectly steeped cup without the noisiness of a beeping alarm.
The Tea Cart servers are kind and friendly and will walk you through the process, so don't worry if this is your first time.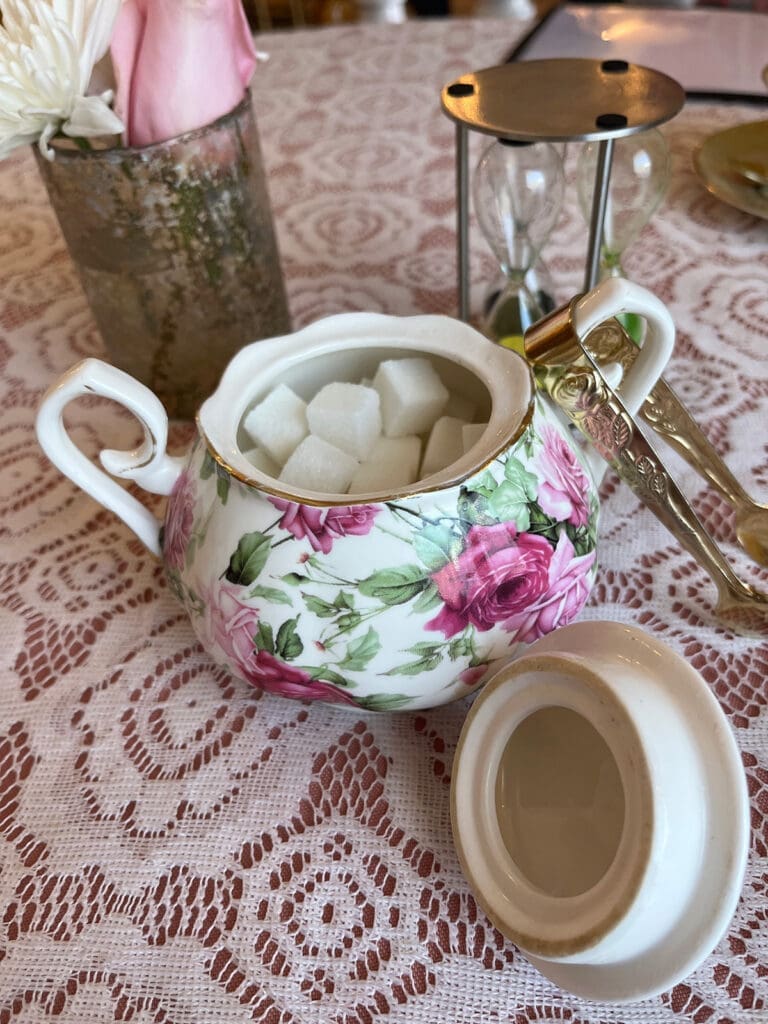 Tea was served alongside milk and sugar cubes. I love the satisfying 'PLOP' sound of a sugar cube being plunked into my tea cup!
Food
During our reservation, Xak and I chose The Royal Ascot which meant we could expect the following:
A soup
A savory starter
4 tea sandwiches
1 scone
3 desserts
Bottomless pot of tea with unlimited flavors
On our previous visit to The Tea Cart in June 2021, we also chose the Royal Ascot. I like that this tea room offers different levels of tea service. Some people may only want to have the traditional 3 tiered tray of sandwiches, scones, and desserts. This option is known as the Duchess of York.
If you can't tell, Xak and I love food 🤣, so naturally we went with the Royal Ascot.
After placing our order for tea, our server announced that our scones would be coming out shortly.
First course: Scones
At our own tea parties, we normally serve scones on the second tier of the three tiered tray. However for today, we were served scones on a plate as the "first" course while we waited for the remaining tray items to be freshly prepared in the kitchen.
The scones were delicious and served with strawberry preserves and Devonshire cream. It was almost like having a cream tea appetizer.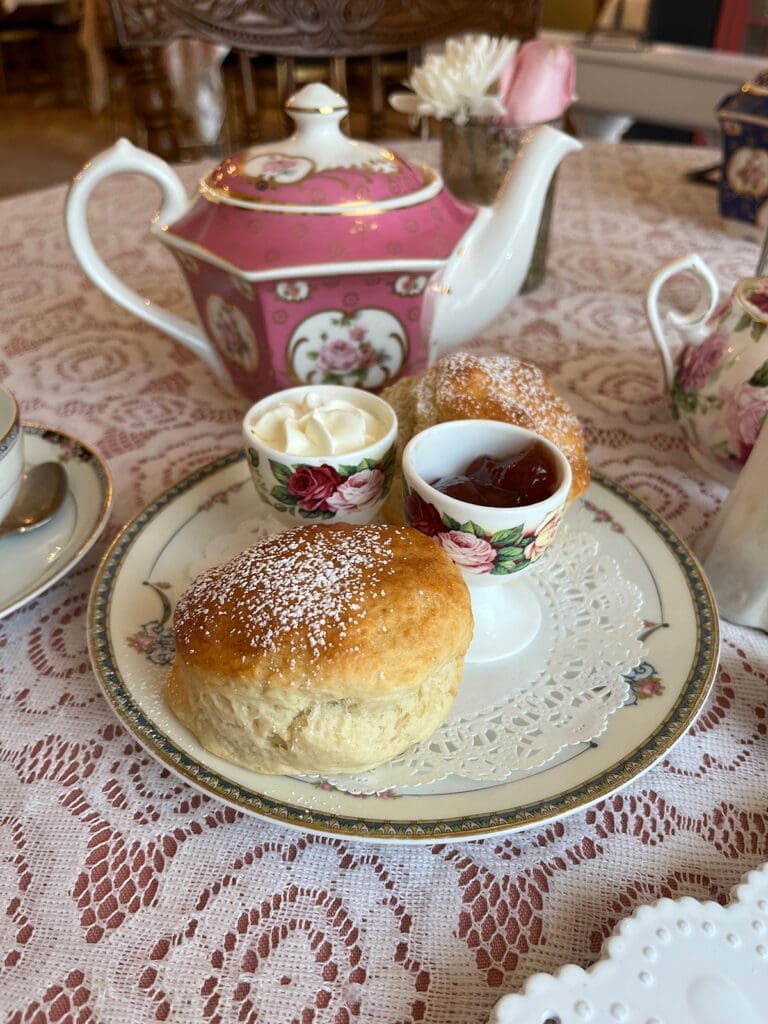 Typically we judge scones by
The rip (how easily can we separate the scone)
The rise
The taste (on its own)
The taste with plenty of cream and preserves
Xak and I enjoy our scones the Devon way: cream first and then preserves on top.
We were able to split the scone evenly into two and the rise looked good to my amateur sous chef eye (Xak with his knowledge of baking scones gave a nod of approval). The bottom wasn't burnt or crispy and after I took a bite, I noticed the taste on its own was quite delicious.
The scone didn't need any additional accoutrements, but it certainly enhanced the flavor. Paired with a few sips of my English Breakfast, I was feeling very blissful.
While I still found it a little odd to begin with scones, it was a nice way to start the meal and I was eager for the second course.
second Course: Soup
On my previous June 2021 visit to The Tea Cart, I had a tomato bisque with some crunchy star croutons for the soup course. It was extremely tasty.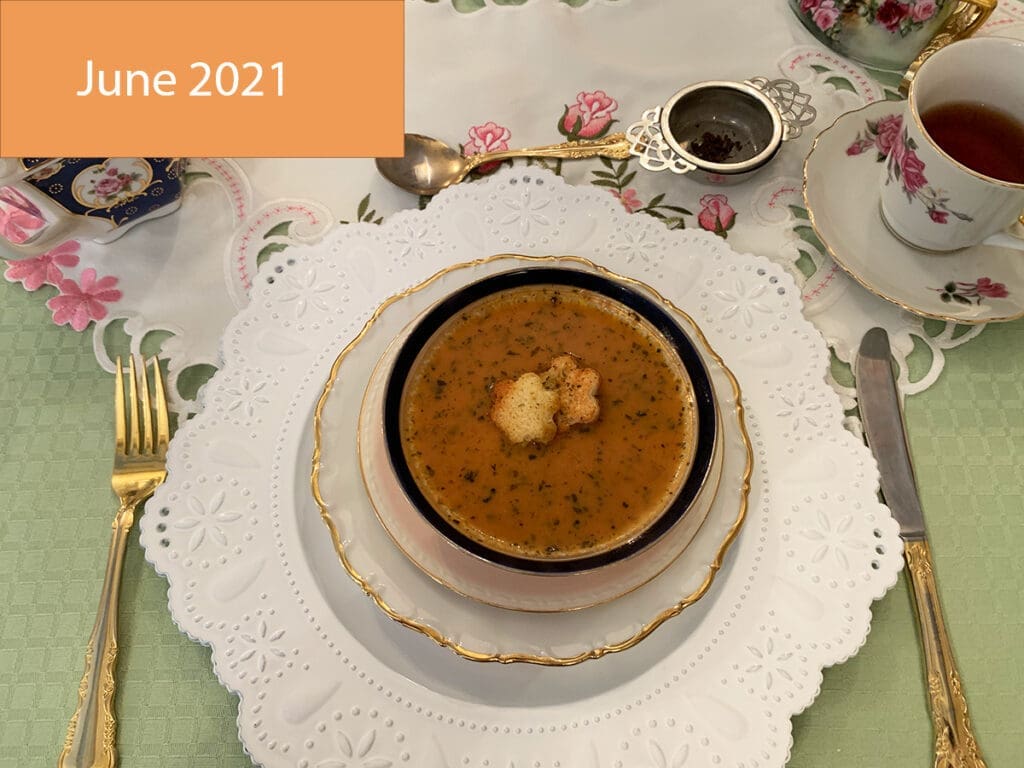 This time around in July 2023, we were served a loaded potato soup.
I'm a huge potato fan. I love all forms of potatoes and eat them in all the ways that Samwise Gamgee does and many, many more.
The soup was broth based as opposed to creamy, chunky, or mealy. It had a nice, deep flavor and tasted like homemade chicken stock with a good amount of salt. There were some bits of scallions, cheese, and bacon.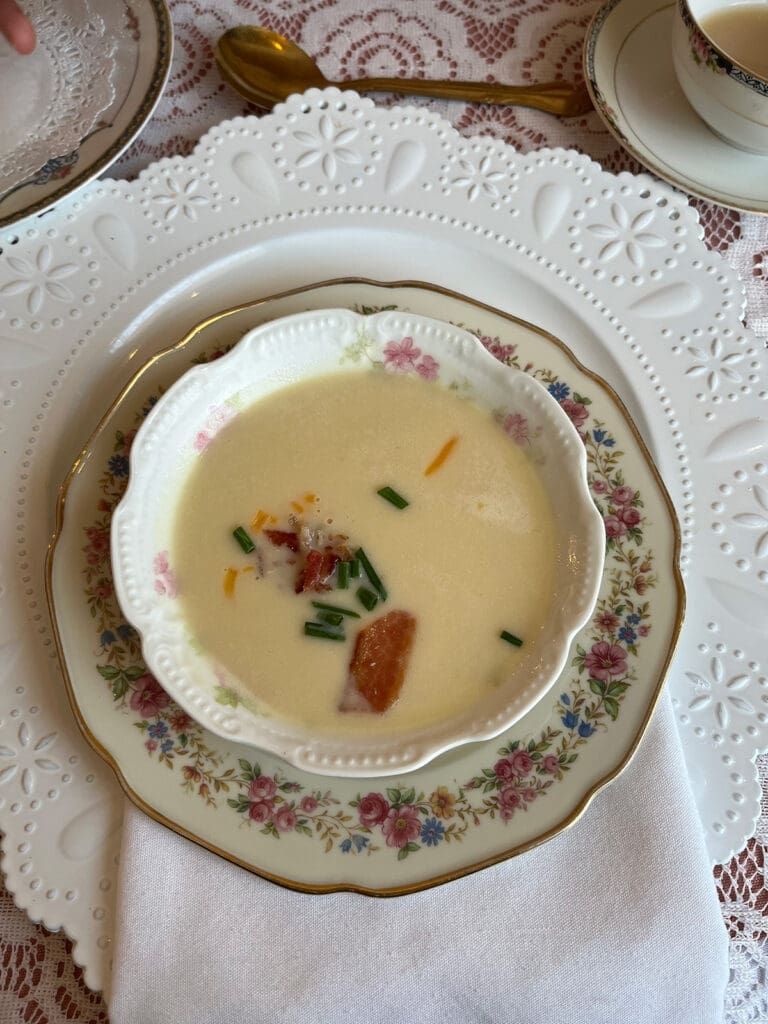 Remember, the soup itself is not intended to be a standalone meal: it's a starter. While I normally eat loaded baked potato soup as a complete meal (served with plenty of cheese and bacon, and crusty bread), I appreciate this lighter version as the second course of an afternoon tea.
For our home afternoon teas, I'm generally responsible for the savory portion of the menu and I recently started adding soups as the first course. I'm still building my soup recipe library, but I think this would be a great addition to a future tea time.
Third Course: Salad
During my previous visit to The Tea Cart, the savory was a barbecued piece of meat in a puff pastry. Very tasty!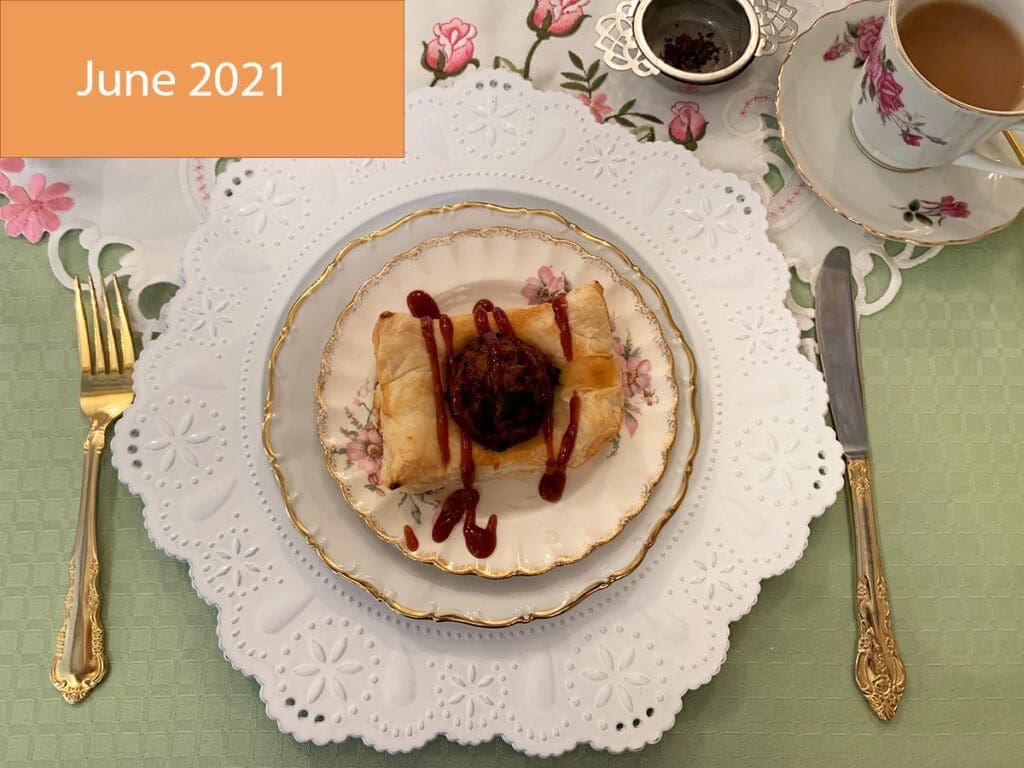 For the second course on this 2023 visit, our server announced a summer orzo salad.
Xak and I enjoy orzo salad immensely. We actually made a huge batch over the previous week on our honeymoon. It was filled with chickpeas, feta cheese, cucumbers, olives, tomatoes, and orzo (of course). I happily ate quite a lot during our trip to Lydia Mountain.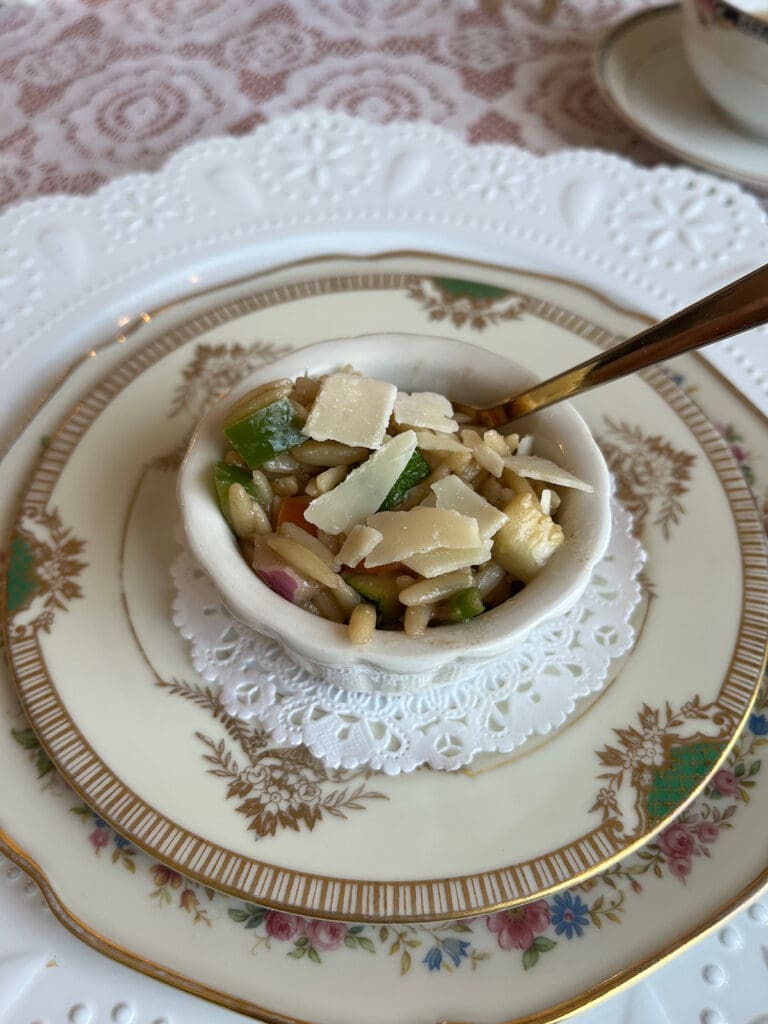 Even so, I still appreciated how fresh and delightful this orzo salad tasted. There was zucchini, carrots, peppers, red onion, and some shaved parmesan dressed in an Italian tasting vinaigrette and served in a little bowl on an adorable doily.
I have never considered serving a small salad at my afternoon teas, but I am very open to doing this in the future. I will gladly look for any excuse to have orzo salad (and doilies).
The Three Tiered Tray
The 3 tiered tray never gets old! I always get giddy and clap like a seal whenever I see it. I'm glad Xak's not too embarrassed by my visible happiness 😊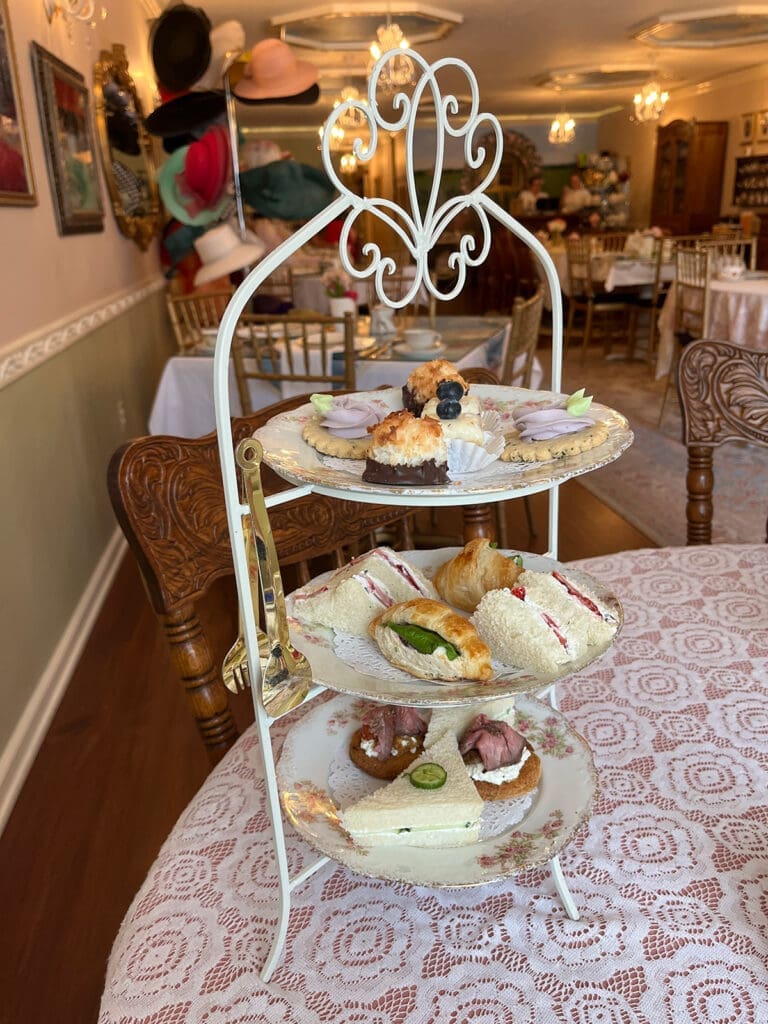 Sandwiches
Our server explained each tier, beginning with the sandwiches which included the following:
Chicken salad in a mini croissant
Roast Beef on a crostini
Dill Cucumber
Strawberry Basil Cream Cheese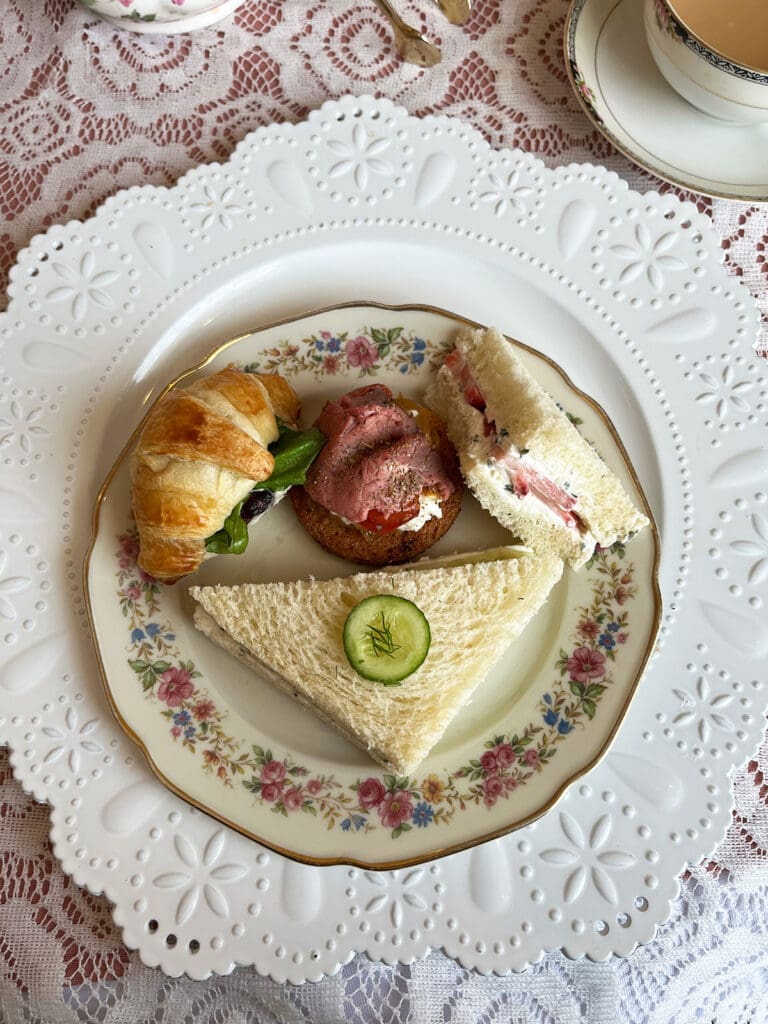 Chicken Salad Mini Croissant
The chicken salad in a mini croissant was excellent. I cannot overstate how much Xak and I love a good croissant. After Xak spent days working on his homemade croissants, we both love and appreciate them even more.
The croissant served as a perfect vessel for a succulent chicken salad. I tasted the same deep flavor that I tasted with the loaded baked potato soup. The croissant was soft, and the chicken salad contained fresh, crunchy celery, and some sweetness from fruit (Craisins perhaps?).
As we finished our croissants, Xak and I discussed how for our next tea, we should definitely attempt croissants again, but next time in mini form.
Roast Beef Crostini
The Roast beef crostini was a little more difficult to eat. It had onions (fair warning to those who may not like onions). Due to the nature of a crispy crostini, the roast beef slid off after I bit into it. I probably should have just popped the entire thing in my mouth. Oops. I like roast beef in general so this still tasted good to me.
Dill Cucumber
Cucumber sandwiches are classic for an afternoon tea. We have served them at almost every one of our home teas. Although the sandwich was a little soggy on the bottom, I appreciated the use of dill and the tiny English cucumber slice on top. I love cucumber sandwiches with herby cream filling.
Strawberry basil cream cheese
I've had the strawberry basil combination before once in a sangria at a winery. It was a great seasonal pairing. This is the first time I've had this at an afternoon tea and it was very soft, refreshing, and appropriate for a summer menu. We received two strawberry basil cream cheese sandwiches each.
The second Pot of Tea
During the sandwiches course, both Xak and I were ready to order a different flavor of tea.
Once I was finished with my delightful pot of English Breakfast, our server asked us if we wanted a refill or if we wanted to try another flavor. I really appreciate the ability to try other teas. My English Breakfast was wonderful, as always, but I wanted to try the interesting flavor I saw on the menu called Lemon Drop.
Lemon Drop was described as the following: A Nilgiri black tea base blended with organic lemon peel and organic lemongrass
I absolutely love lemon in everything (lemon water, I Love Lemon Bigelow tea, Citrom Ters, etc.) so this sounded perfect!
Xak decided he was ready for the Chocolate Almond tea which included the following: Coconut, safflower, almonds, and organic cocoa nibs.
Desserts
Blueberry Cake with Cream cheese Frosting
I like blueberries, especially during summer. Although the cake was a little bit dense, it looked very cute and it was ultimately moist. There were plenty of blueberries in the small cake. Although I'm normally not a fan of frostings or icings, I do enjoy a good cream cheese frosting since it provides a little tartness and also some decadence to what might be an otherwise plain dessert.
Coconut Macaroon
I'm not a huge coconut fan and I don't have coconut macaroons often. However, I do enjoy coconut with chocolate like a "fun" sized Mounds or Almond Joy bar around Halloween.
Coconut macaroons are a great gluten free or dairy free dessert. While I did not ask if these particular ones were gluten and dairy free, I have previously made them myself and will certainly consider making these again for any guests that have those dietary needs or preferences.
The macaroon was a delicious bite. I greatly appreciate a little chocolate at tea time.
Lavender Shortbread Cookie with Lemon Glaze
Aside from my love of all things lemon, this cookie was the reason I chose the Lemon Drop tea. I'm not a big lavender fan, however I know that lavender and lemon are a very classic combination.
When I received the lemon tea, and waited the right amount of time to steep (per the timer), I took a bite of the lavender cookie and a sip of the Lemon Drop tea.
WOW! I felt like Remy from Ratatouille when he experiences a delicious food pairing.
I immediately offered some to Xak, because (like Remy), I love sharing incredible food experiences.
Xak took a quick sip, and I saw his eyes instantly light up. This was my definitely my favorite part of the meal!
The cookie was soft and there was a lavender taste with every bite. The icing on top added some sweetness. I'm not sure about the lemon glaze part, but there was a great lemon flavor coming from my tea. I gobbled this up very quickly. I think I like lavender now.
I also saw the wheels turning in Xak's head. It was clear he was getting an idea…
Special Gift from the Kitchen
We were very surprised by the special strawberries the staff presented to us in honor of our honeymoon.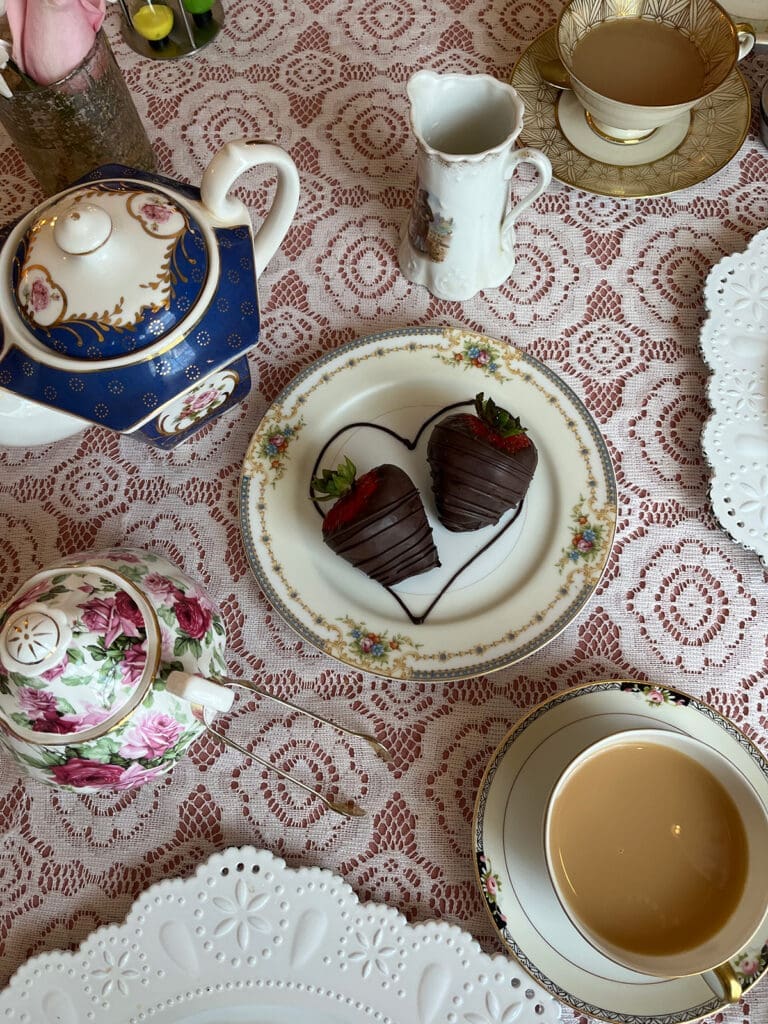 Although I was feeling very full at this point, I will never turn down chocolate and strawberries. The strawberries were delicious, the chocolate had a nice shell consistency, and we were very grateful for such a thoughtful gesture.
Restrooms
There are 2 restrooms and the one I was in had some Queen Elizabeth decor. I'm not sure how I feel being watched by the Queen when I'm on the throne (heh)… but the bathroom was spic and span. Looks like nobody wants to make a mess in front of the Queen!
Payment
Our bill was delivered to our table and we were told to take our time. I smiled at the nice message at the top of our receipt.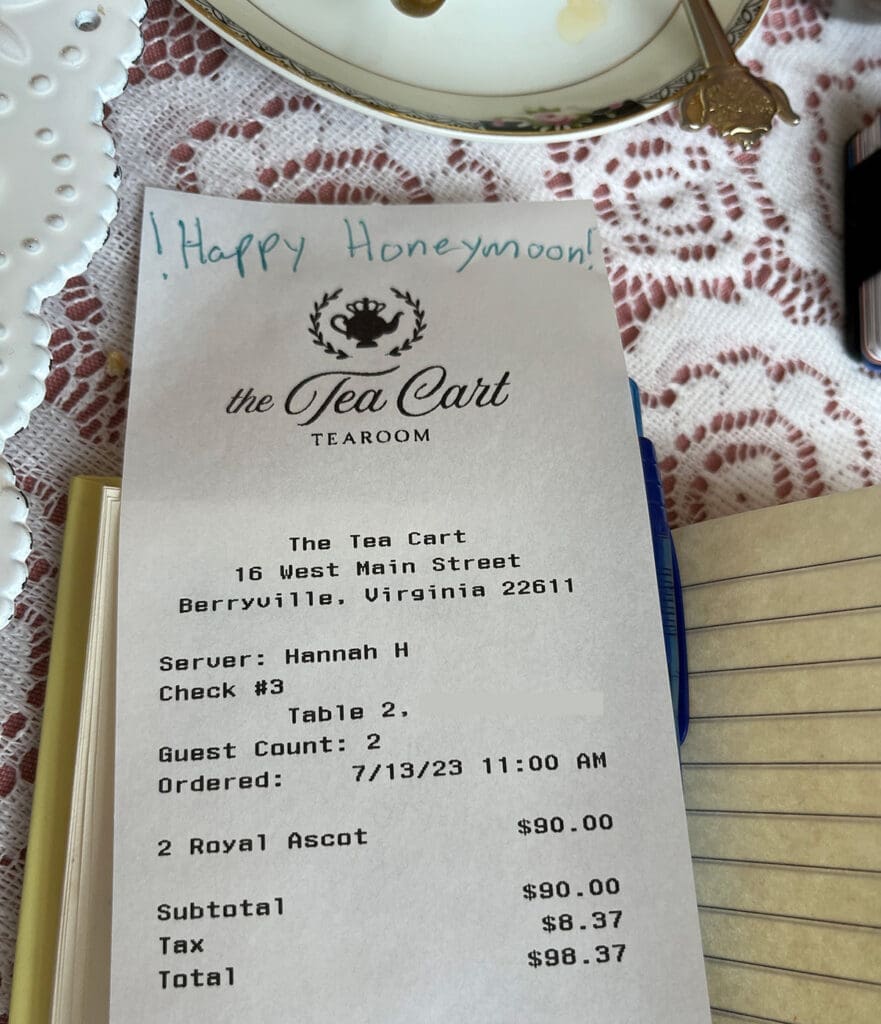 Since Xak and I were also interested in purchasing a bag of tea, we went to the front to peruse the tea flavors and pay at the counter.
It didn't take us too long to decide on the Lemon Drop tea. I was so excited to experience this at home. Now if only we could have some of those lavender cookies to go along with it…
After paying our bill, we thanked the staff again and headed back to our car with 8 minutes on the meter to spare. Plenty of time to do a quick Pokemon Go walk!
Final Thoughts
We had such a wonderful time at the Tea Cart. Our visit in 2021 was also great. This time around we now have more home afternoon tea experiences under our belt and certainly appreciate the thought and care tea houses put into ensuring a pleasant experience and a delicious menu.
This was the last stop on our honeymoon and it was bittersweet since I was sad for such a wonderful week to end, but this was definitely the perfect way to end our honeymoon and start our new life together!
day Trip Itinerary
I highly recommend visiting The Tea Cart if you are in the Northern Virginia or DC Metro area. If you're looking for an excellent day trip, after your tea I would also recommend visiting the Museum of Shenandoah Valley which is about 20 minutes away. Expect some beautiful gardens and a really cool miniatures exhibit!
Bonus: Blogging Snacks
I tend to write my blog entries with a cup of tea or coffee and a treat. For this particular entry, I actually wrote this entry while drinking my Lemon Drop tea and some tea biscuits.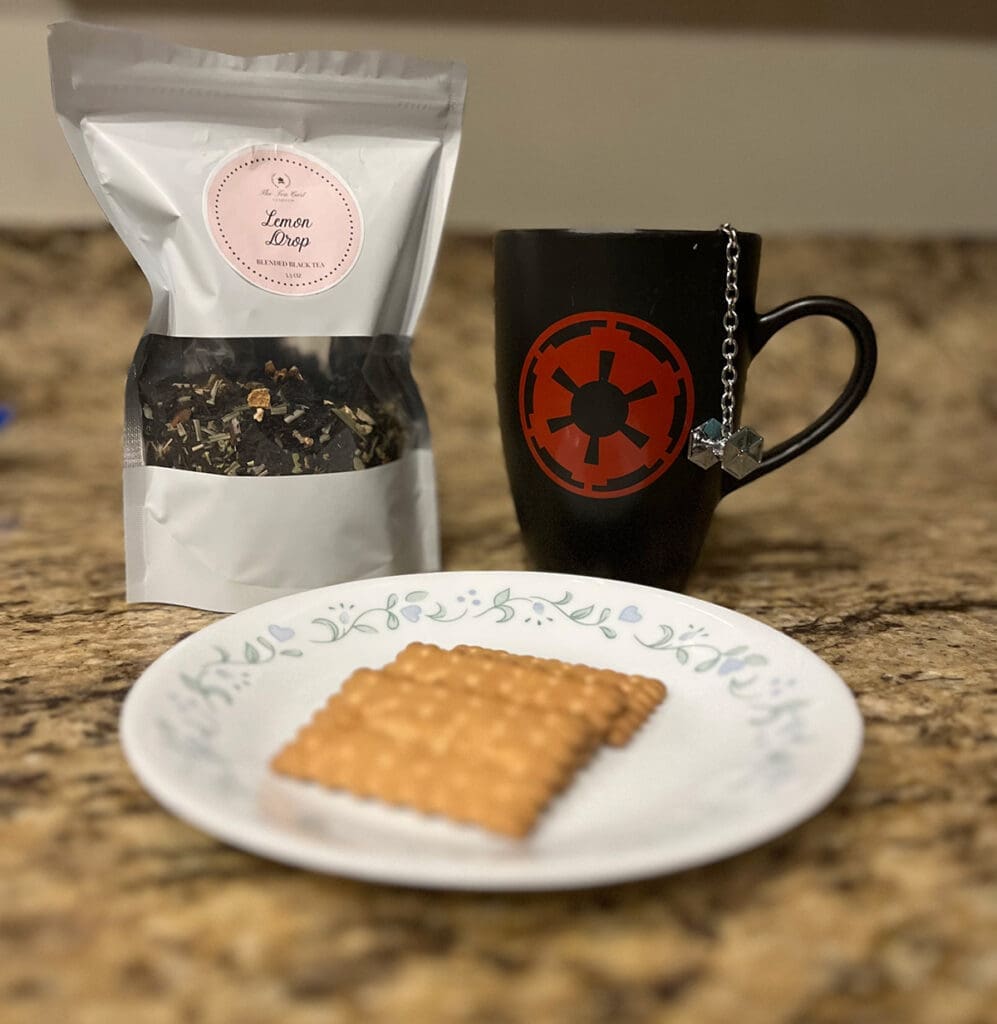 I am eagerly awaiting our return to the Tea Cart to replenish our Lemon Drop tea supply and also for another excellent tea room experience!
Have you been to The Tea Cart? If so, what did you think?