Afternoon Tea Chicken Sandwiches
I love a good chicken salad sandwich for any occasion. I especially love any tea room that includes chicken sandwiches as one of their savories. My favorite chicken sandwiches usually have rotisserie chicken.
Rotisserie chickens are amazing, but I've never tried to make one myself. I don't even know exactly how someone can make one at home unless they try to use a phonograph in the fireplace like Mary Bailey does in It's a Wonderful Life or they own the Ronco cooker from the Set It and Forget It infomercials. Because I lack ingenuity (and QVC appliances), I stick to purchasing rotisserie chicken whenever I hit up a grocery store or the rare instance I see a Boston Market.
For our upcoming "Casual Tea" Party, we were planning on celebrating the release of the new Hannah Swensen murder mystery movie with an afternoon tea. I already made cucumber sandwiches for one of our savories. Since cucumber sandwiches are a great, light sandwich for any tea, it would be nice to have something a little heavier since Casual Tea would be our first meal of the day. Chicken sandwiches seemed to fit the bill.
At most tea rooms I've visited, I've been served coronation chicken sandwiches which has curry flavoring, or lightly seasoned chicken sandwiches served in mini croissants. Unfortunately, Xak did not have the time to make croissants for our tea so we decided to move forward with our grocery store bought sandwich bread. We made a mental note though to allow ample time for mini croissants for our next tea.
My chicken croissant during my 2021 visit at The Tea Cart

My grape chicken sandwich at Ellen's Tea Room in West Virginia – 2022

Xak's Popeyes Chicken Sandwich. Hey, not that kind of chicken sandwich!
For our "Casual Tea", I wanted to use a RecipeTin Eats chicken sandwich recipe. I've made this recipe before and it's delicious, just like the mini cheesecakes I made for a previous tea and every other RecipeTin Eats recipe I've ever made. It's a great chicken sandwich, but more in line with something you would order for a meal at a cafe or a deli. It's likely not what you expect for a dainty tea sandwich, but I've always prioritized flavor over being proper.
Another good thing about this recipe is that you're guaranteed leftovers for weekday lunches. This is a completely valid reason for ignoring etiquette.
Ingredients
Most chicken sandwiches tend to focus on chicken, some sort of creamy sauce, celery for crunch, and perhaps a few herbs or spices. There's also the occasional fruit, like grapes or apples.
For this recipe, there's a lot more involved including walnuts, green onions, and dill pickles. The recipe does take a bit longer than make, but it's definitely worth it.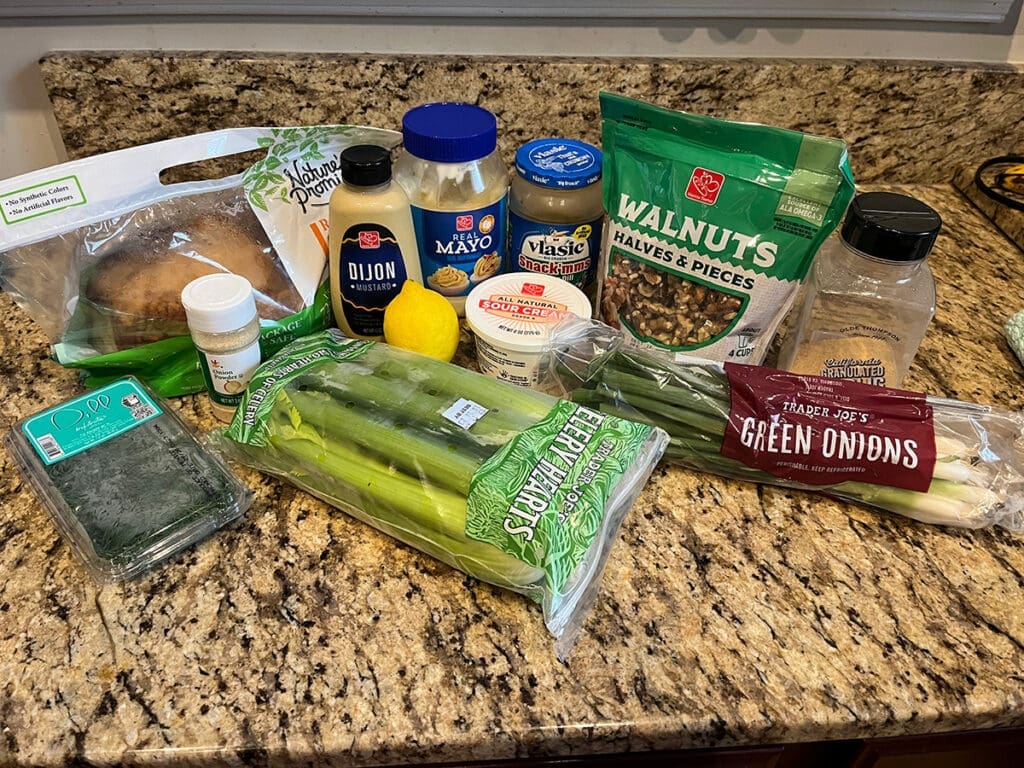 Shredding the Rotisserie Chicken
I've made these sandwiches before with my own chicken and seasonings and with rotisserie chicken, and I personally prefer making it with rotisserie chicken. If you're pinched for time (or just an impatient person), rotisserie chicken is definitely the way to go.
The first step is to get the chicken into a mixing bowl. This is a long and tedious process and usually Xak handles meat shredding responsibilities for all recipes such as shredding pulled pork for carnitas, or shredding chicken for chicken tortilla soup. Xak's patience is impressive and also not a surprise considering he waits for hours just for dough to rise. Although the recipe does say to remove the skin, we tend to skip this step (due to my impatience).
Xak diligently removing the chicken from the bones by hand

I take all of Xak's hard work and happily shred it to bits.
Once all the chicken is in the bowl, you're supposed to use a stand mixer to shred it as finely as possible. Because Xak and I were both in the kitchen preparing for our afternoon tea, I was relegated to the hand mixer since our new Kitchen Aid was currently occupied for our Casual Tea desserts.
Using a mixer to shred chicken is a little weird. The goal is to get it crumbly so it's in very fine pieces with no large chunks. I usually use mixers to combine ingredients with some liquid, or to form dough with butter and sugar. In this case, you're not trying to form anything. You're really just using the mixer to demolish the chicken.
creamy Chicken Sandwich Sauce
The sauce is a mix of carefully measured mayonnaise, sour cream, onion powder, garlic powder, salt, pepper, dijon mustard, lemon juice, and salt, and pepper. For RecipeTin Eat's recipes, I really follow the recipe to the tee since the documented ratios and measurements have always proven to be delicious as-is.
Measuring out the exact amounts of the sour cream and mayo for the sauce.

Restraining myself from dumping in more garlic powder than what the recipe calls for.
The sauce gets mixed together until smooth and then gets poured onto the shredded chicken until it's completely coated and combined.
Adding some crunch
While most chicken sandwich recipes I see would probably stop around this step, this particular recipe adds in celery, walnuts, and some dill pickle to provide a satisfying and flavorful crunch. Green onions and dill are also added, which is especially great if you're looking for other ways to use dill (like me). If you decide to make cucumber sandwiches, you can share the dill between both recipes and have one less dill meal to worry about.
Chopping up some celery, pickles, and green onions.

Adding all the ingredients including walnuts and dill
Once the filling is done, assembly begins. Of course, you should definitely taste the filling to make sure everything is good. Club Crackers in the green box are the best way to test. 😏
Assembling the chicken sandwiches
For this recipe, I use regular sandwich bread because that's what I have. You can use whatever you want, but keep in mind that if the bread is too soft, it might not be able to support the weight of the filling, especially if you tend to overstuff it like I do. Before piling the filling onto the bread, I spread butter on each slice (as recommended from the recipe) to make sure that the filling doesn't soak into the bread.
Spreading butter on the top slice before placing it on a "slightly" overfilled piece of bread

Cutting off the bread crusts to enjoy chicken sandwich offcuts with Xak. This is the afternoon tea version of pre-gaming 🤣
Since this is for afternoon tea, I do take the extra step of cutting off the crusts (and eating the offcuts with Xak). I previously had cut my cucumber sandwiches diagonally, but it's nice to have finger sandwiches in different shapes, so it makes sense to cut these into rectangles instead.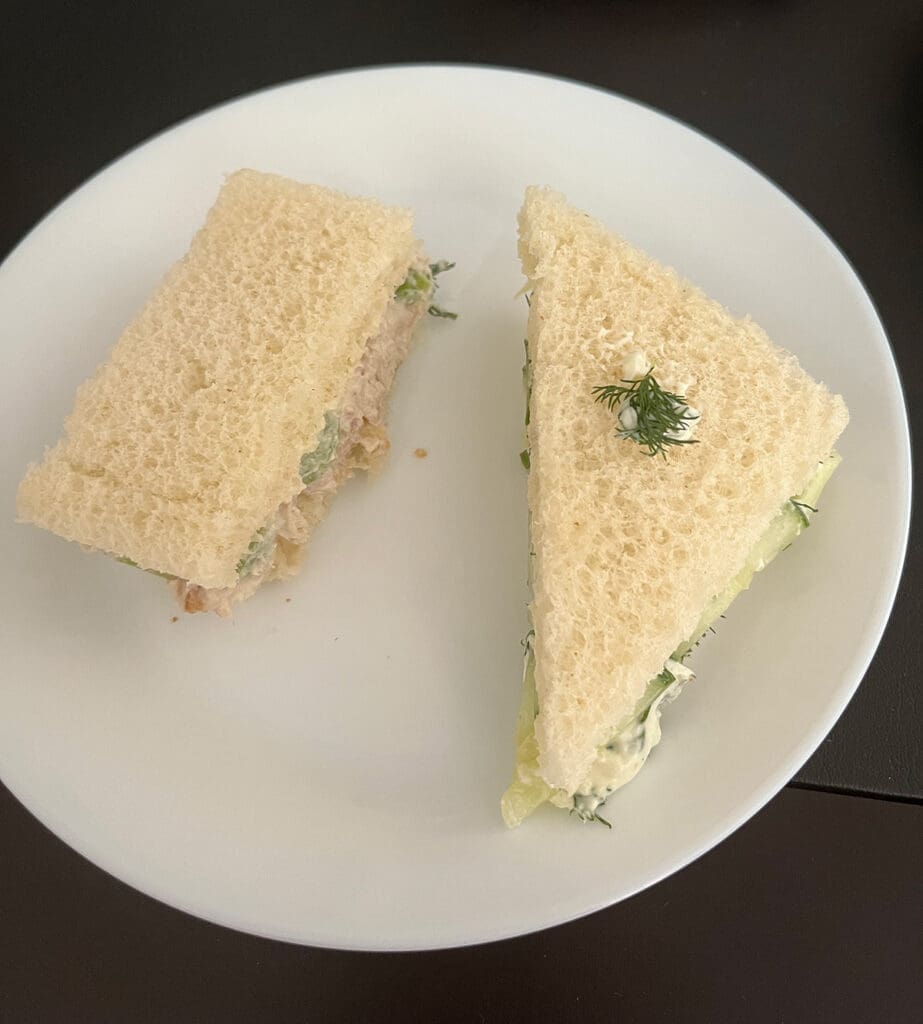 And so completes our savories for the "Casual Tea." We still have scones and desserts left before we can eat!
Next up: Cream Scones