Mini Cheesecakes for Afternoon Tea Time
Minutes after eating my husband's latest Sabbatical Baking creation for dinner (a raised non game pie), it was time for us to brush off the crumbs and start the next Sabbatical Baking Challenge: mini cheesecakes.
Why mini cheese cakes?
I'm a big fan of cheesecake, and one of my not so secret goals is to eat every single cheesecake at The Cheesecake Factory. The only problem is that I keep ordering the Chocolate Mousse Cheesecake instead of trying out something else. (Can you blame me?)
For Xak's Sabbatical Baking journey, I wanted to make a full size cheesecake since we recently received a springform pan from our wedding registry. However, it was currently being used by the colossus meat pie that Xak had just finished baking an hour earlier.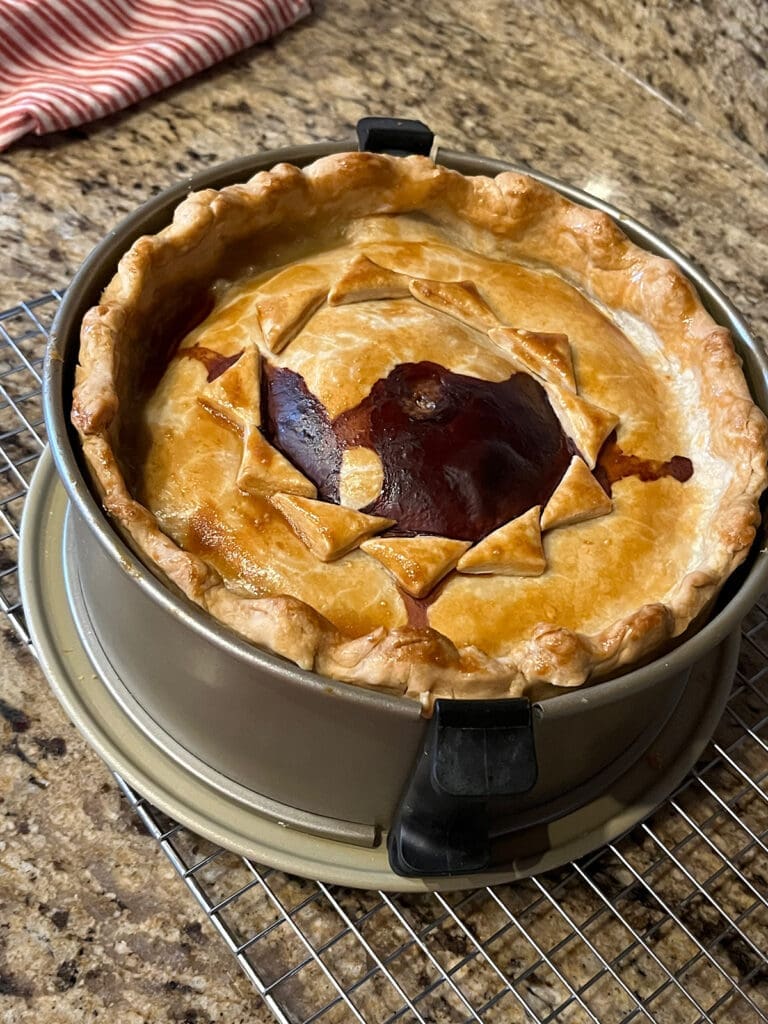 Since we were planning a semi-casual afternoon tea the next day, I wanted to make something different from the standard madeleine or lemon bar. Those are classics at our tea times, but with the exception of Xak's povitica, every bake he's made during his Sabbatical has been something new.
For our very casual teas, we usually have our own plates loaded with untidy tea foods:
sandwiches with crusts
full size desserts that require forks (!)
tea served in MUGS 😮
(you get the picture)
However, when it comes to planned semi-casual afternoon teas, we enjoy making portable treats, finger foods, and quick bites. We also like to bust out a 3 tiered tray since it makes even a semi-casual afternoon tea feel a little more special. Mini cheesecakes would be perfect on the top tier.
Plan
Make mini cheesecakes as the dessert course for our afternoon tea at home.
The only problem: how do you make them?
RecipeTin Eats
One of my favorite food bloggers is Nagi, the owner of RecipeTin Eats. I discovered Nagi's website when trying to make a simple baked chicken and rice meal for dinner. I was very impressed with how the recipes were broken down, recommended ingredient substitutions, and the very helpful step by step pictures and accompanying recipe video. Soon, baked chicken and rice opened the door for jambalaya, carnitas, chickpea curry, and so much more. This is the exact kind of site that people who follow recipes to a tee need in order to appear like they know how to cook.
Jambalaya with sausage, shrimp, chicken, and so many delicious spices (trust me, it was amazing)

My Chickpea Curry on basmati rice with a huge piece of garlic naan (courtesy of Trader Joe's)
Translation: I LOVE THIS SITE!
Although my focus tends to be on dinner and savory recipes, one day as I was browsing the website, I saw something for mini cheesecakes.
Mini desserts are highly sought after in this house. Not only are they perfect for our tea times, but they're also cute, and you can eat more for less calories than full sized.
I had never made a Recipe TinEats dessert before, but since Nagi has never led me astray, I really wanted to give this a try.
Ingredients and Baking
In order to have smooth, creamy, pliable cream cheese, it's important to let it soften. Usually I let it sit out on the counter for about a half hour or so and hope that it's soft enough (it rarely is). The normally patient Xak however swears that putting a heated bowl on top of the cream cheese helps to speed up the softening. I decided to give it a try while I worked on the base.
Although Nagi's recipe calls for digestive biscuits (which we do have), but we prefer graham cracker crusts for my cheesecakes.
It can be a huge struggle keeping graham crackers in this house. Xak, a huge s'mores lover, absolutely loves grahams and they are a permanent addition to our weekly grocery lists. I can't judge because I have a weakness for iced oatmeal cookies and Oreos.
For this particular recipe, we needed a graham cracker base for each cheesecake, and while these were mini desserts, we still needed quite a number of graham crackers for the base.
The recipe called for digestive biscuits, but we only had chocolate covered ones.

Ingredients for the mini cheesecakes including enough graham crackers for the alternative base!
I added the precise number of graham cracker sheets, cinnamon, sugar, salt, and butter into our food processor to begin grinding up Xak's beloved treat into dust.
As I turned the food processor on, I heard an awful metallic, grinding, screeching sound.
The broken Food Processor
Apparently, between the time that we used the food processor to grind up hazelnuts for Xak's povitica and today, a small part went missing. Because of this, the food processor was now a heap of trash.
The awful grinding sound I heard was the blades scraping against the sides, shredding fine plastic chunks into my now unusable graham crackers.
Sadly, the entire food processor and the crust contents had to be chucked. I wasn't in the mood to eat plastic particles during our tea.
Miraculously, Xak had left yet another box of graham crackers untouched in the back of our pantry and I was able to recreate the crust. This time, I use the old school method of zip lock bag and a rolling pin. Who needs modern appliances anyway? (RIP Food Processor 😢)
Mini Cheesecake Filling
The food processor fiasco and subsequent panicking took up a considerable amount of time. In fact, it was so long that by the time I was ready for the filling, the cream cheese was at room temperature and ready to be beaten.
After including all the filling ingredients (eggs, flour, sugar, and plenty of lemon zest), I was ready to fill the muffin tins and put them back in the oven.
Ingredients for the mini cheesecake filling. I might have mistaken the vanilla bottle for soy sauce before…

Grating in lemon zest into the cheesecake cream cheese filling, per the recipe
The filling smelled nice but since it had raw eggs and flour in it, I had to avoid the temptation of sneaking a spoonful for myself. We had the perfect amount of filling for our muffin tin and filled it right up to the top. After 20 minutes (almost enough time to finish an entire Star Wars Rebels episode), the cheesecakes were ready to come out and then… sit on the counter for an hour to cool.
"(numerous curse words)"

-Me, after realizing that I had to wait another hour for the mini cheesecakes to cool down before I could go to bed
After my 1 hour timer went off (close to midnight), I quickly wrapped the muffin tin in plastic wrap, placed it in the fridge to chill and headed wearily upstairs.
Mini cheesecakes out of the oven and cooling on the stovetop for an entire hour.

After cooling, finally wrapping up the cheesecakes to chill in the fridge overnight.
All I could think about was how beat I was… like the eggs that were in the filling of the mini cheesecakes that we would be eating for tea the next day.
My mood lifted as I thought about how I'd be waking up soon and having tea!
Decorating the Mini Cheesecakes
The next morning, Xak offered to help with decorating the mini cheesecakes. This is fine with me because I'm not good with delicate details or piping bags. I appreciate the people who have the skill and patience.
For our decorations, I wanted to use blueberries, strawberries, raspberries, chantilly cream, and mint which is similar to what the original recipe calls for.
Xak worked on making the Chantilly cream (heavy cream, vanilla, powdered sugar) to place on four of the mini cheesecakes.
Removing the cheesecake from the fridge. The filling is nice and chilled and ready to decorate!

Xak made Chantilly cream and piped it on top of four of the mini cheesecakes.
He then counted and cut up the berries, placed them artistically on top of each cake, and added a sprig of mint with a sifting of some sugar.
Xak placing strawberries, raspberries, blueberries, and mint on top of our mini cheesecakes.

After sifting the sugar on top, we were ready for our afternoon tea to start!
Wow! They looked delightful! I resisted the urge to pop one in my mouth.
Sitting Down for Afternoon Tea
Since this was only a semi-casual afternoon tea, we planned on scaling back a bit. Our more extravagant afternoon teas take a lot more planning, and involve a lot more food. However, today's tea was still very exciting! I couldn't wait to dive into these mini cheesecakes.
For savories on the bottom tier, I created simple cucumber sandwiches with an herb cream filling on white bread, cut into rectangles without the crusts. These would be paired with the raised (non) game pie.
The middle tier would have two of Xak's fig scones along with FROG jam. We put those along with the pie slices in the air fryer to heat and crisp up ever so slightly. Much better than the microwave.
For our desserts, the mini cheesecakes adorned the top of our 3 tiered tray along with a few of the macarons Xak received earlier. I also preemptively put a cheesecake on each of our plates as a not so subtle hint to start with dessert first.
For our afternoon teas, I love a cup of Yorkshire with a little milk and a sugar cube. We settled down to taste the cheesecakes: they were a winner!
Our three tiered tray featuring mini cheesecakes, macarons, fig scones with FROG Jam, and cucumber sandwiches.

Another shot of our food because I forgot the raised non game pie and our cups of tea!
It was raining heavily outside, but indoors we were grateful to be safe, warm, and feeling very happy. There really is nothing better than enjoyable company (Xak), delicious treats, and a lovely cup of tea!