After successfully baking homemade sandwich bread, Xak wanted to make fig scones for the second challenge of his sabbatical bread week, and if possible have a cream tea.
Our first non-family member tea party
Xak and I love afternoon tea. In fact we visited two afternoon tea places during our recent honeymoon. We've also spent many hours identifying several more afternoon tea houses to visit in the future, and we host our own private afternoon tea several times a year. Keyword: private.
Last year, one of my good friends came to visit for the weekend and we had an afternoon tea party. This was our first time having an afternoon tea party with a non-family member and we (ok, mostly me) panicked for days.
So many things can go wrong:
The sandwiches tastes awful
The scones taste awful
The desserts taste awful
Grocery store runs out of sugar cubes and you're forced to use regular sugar
Luckily, our first non-family tea party turned out great! My friend even made a delicious cake and her own homemade fig preserves to go with Xak's scones.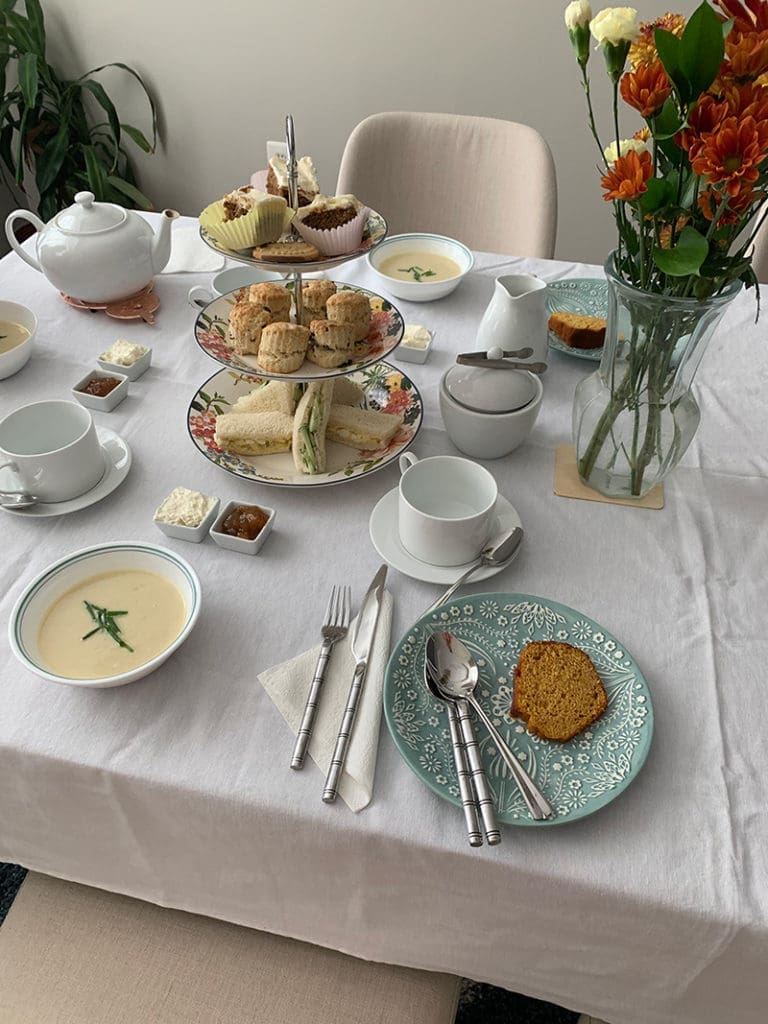 The preserves were incredible. They were so good that the memory of the fig preserves convinced Xak to purchase FROG (Fig, Raspberry, Orange, Ginger. Not the amphibian) jam on our honeymoon and served as the inspiration for the fig scones he planned to make during his self declared bread week.
Since Xak had already made sandwich bread that was ready to be turned into tea sandwiches, the next logical step was to move up to the second tier of the tray: the scone course.
Xak's Love for Scones
Xak loves making scones. In fact, this is why this very blog is named Scones and Doughns. He has yet to meet a scone he does not like, and every scone of his has been heartily consumed (by me). Xak represents the scones of this blog and I am the doughn (short for doughnut) because of my love for… doughnuts.
Xak often makes cream scones based on a recipe from our Downton Abbey Tea cookbook. Another frequently made scone is a carrot cake scone from a 2021 issue of Tea Time magazine. I also fondly reminisce about the savory Rosemary White Cheddar scones he made during our Lord of the Rings immersive hobbit meal event. Basically any scone Xak makes is guaranteed to be delicious.
This time, Xak was set on fig scones because fig scones belong with FROG jam.
Plan
Eat fig scones with FROG jam along with tea sandwiches made from Xak's sandwich bread for lunch
As the apprentice level baker in the house, I don't have any real advice. I can just parrot Mary Berry from old seasons of GBBO:
Is that comment even legit? Does that apply to scones?
Xak just smiles and always goes back to doing what he does. Baking really is his happy zone.
The Baking Begins
I like watching Xak make scones because you can tell he really enjoys the entire making process. Typically we ask Google to play some appropriate baking music (like the Downton Abbey soundtrack) in the background when we are in the kitchen. It's quite the vibe.
I suppose Xak is Mrs. Patmore and I am Daisy? 🤔
Another reason I love when Xak bakes scones is because unlike sandwich bread or croissants, they are quicker to bake. Quick bake time means quick to eat time.
My excited thoughts of eating fig scones relatively soon would abruptly change since an unexpected surprise occurred.
A Surprising Turn of Events
Xak's brother had kindly sent some surprise macarons from a local bakery called Olivia Macaron, to Xak for celebratory reasons.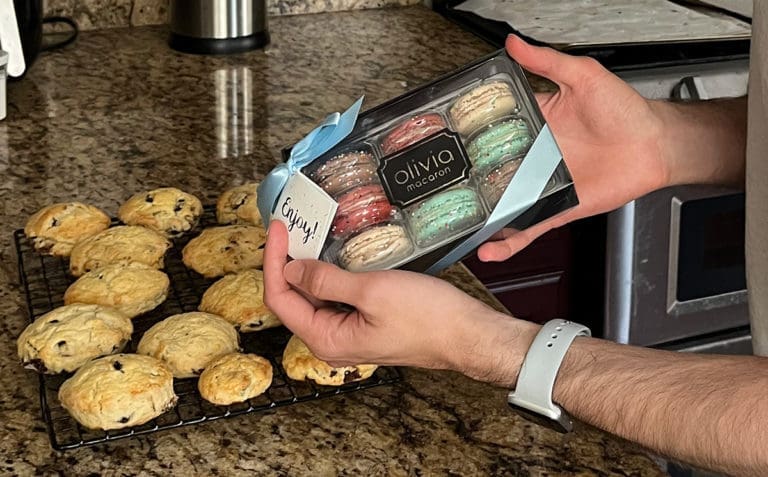 We absolutely love macarons. They're cute, delicious, and perfect for tea. And if we already have scones and tea sandwiches…
NEW Plan
Have impromptu workday afternoon tea featuring macarons, fig scones with FROG jam, and tea sandwiches with Xak's sandwich bread and a cup of tea.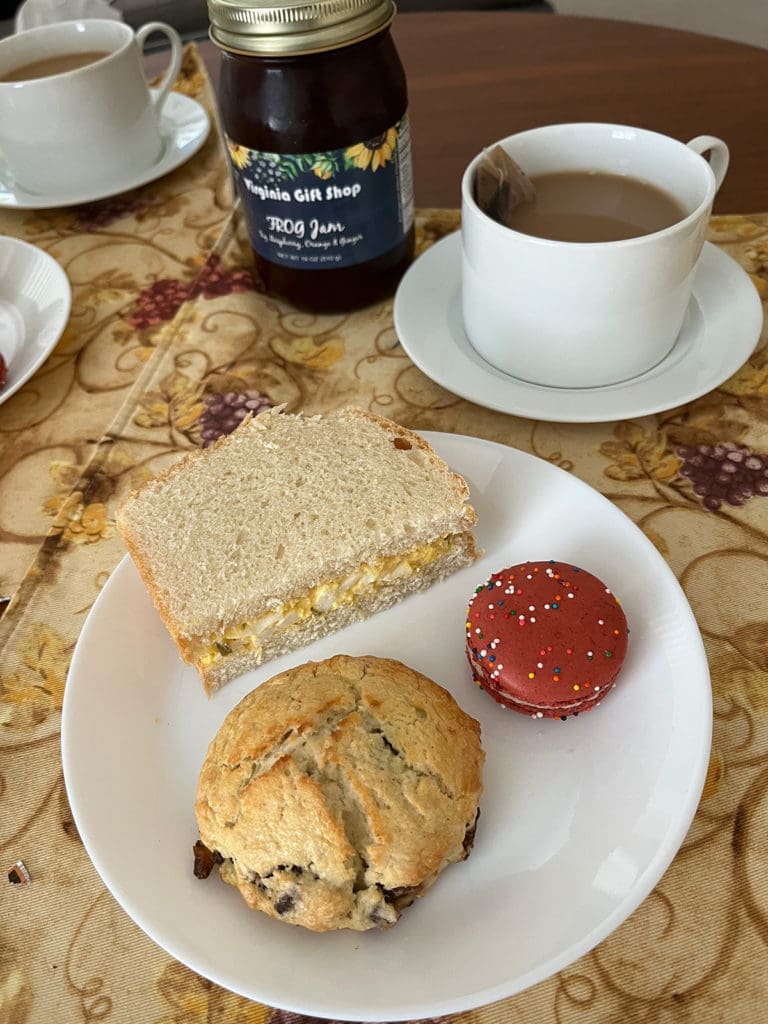 Impromptu afternoon tea means no time to bust out any fancy china. Workday afternoon tea means no time to linger and lounge around. However, even though I gobbled up everything in about five minutes, those five minutes were truly blissful.
Let's hear it for fig scones and FROG jam! Hop hop, hurray!
Next up: Xak revisits a bread he's made before: povitica