Cucumber Afternoon Tea Sandwiches
My favorite part of any afternoon tea is the bottom tier of a three tiered tray: the afternoon tea sandwiches. Scones and desserts are great, but the sandwiches to me are peak quintessential afternoon tea.
Here are my reasons why:
You can get a scone and desserts at almost any bakery or coffee shop
Tea sandwiches are small and meant to be eaten in two to three bites. Usually you are served a wide variety giving you an opportunity to taste multiple flavors and fillings during tea time.
Where else outside of afternoon tea do you normally see cute sandwiches without crusts?
This past weekend, Xak and I were planning a new themed afternoon tea. We have previously often paired up our afternoon teas at home with a movie like Downton Abbey, Little Women (1994 Winona Ryder edition featuring the spectacular Thomas Newman soundtrack), or the amazing TV miniseries, Horatio Hornblower. All of these movies have people who drink tea, and it's fun to feel like you're part of the show since you're eating and drinking along with the characters.
We usually take our little bistro table and plop it in front of our couch and set up our three tiered tray, our tea pots, sugar cubes, and plates so it feels like we're at the first row of a dinner theater.
The "Casual Tea" Party: A Murder Mystery Afternoon Tea
Since Xak and I love having immersive movie events, we decided we wanted to have a "Casual Tea" Party aka A Murder Mystery Afternoon Tea (get it? Casual tea like a casualty? Sorry. 🤣)
For this weekend, we were planning on enjoying afternoon tea and watching the new Hallmark Hannah Swensen movie called "A Zest for Death" based on the book "Lemon Pie Meringue Murder." The Hannah Swensen series is written by Joanne Fluke. The books are based on the title character who owns a bakery called the Cookie Jar. She's also an amateur detective and tends to stumble upon dead bodies. There's plenty of food in it, and as you read, you likely will want to make a cup of coffee and grab a chocolate chip cookie. Or two. Or three…
I've listened to all the Hannah Swensen audiobooks including the Lemon Meringue Pie Murder book that "A Zest for Death" is based on.

Mini chocolate chip cookies that Xak makes for me including one in the shape of BB8! I tend to eat these whenever I am listening to a Hannah Swensen book.
Hallmark started making TV adaptations of the Hannah Swensen books a few years ago, and while they're not book accurate (ex. Hannah looks nothing like the way the book describes her, Moishe the cat looks different, etc.), I still enjoy the Hallmark series because I can separate the book from the films in my head and there's still plenty of food!
Watching a cozy culinary murder mystery while having afternoon tea on a rainy day is the best way to spend the weekend!
In order to honor the book title, we decided to have lemon and meringue represented in the desserts which Xak and I would both work on. However, I needed to focus on the savory part while Xak worked out the scone details.
Cucumber Sandwiches
When it comes to afternoon tea, most people think of dainty, elegant, cucumber finger sandwiches. I'm one of those people. For our planned "Casual Tea", cucumber sandwiches would definitely be part of our menu along with some tasty Chicken sandwiches.
If you've never had a cucumber sandwich before, it's not just two slices of bread with cucumbers. I love sliced cucumbers because they are refreshing and light, but they would be pretty plain and boring on their own.
Example of a cucumber sandwich for afternoon tea at the Tea Cart in Virginia

Example of a cucumber sandwich for afternoon tea at Rosemont Manor

Example of a cucumber sandwich for afternoon tea at Mocatinas in Virginia
I've encountered a lot of varieties of cucumber sandwiches from the different tea rooms I've visited. Some afternoon tea places I've gone to use seasonings, while others don't. One place I ate at used thick slabs of cream cheese which I did not enjoy at all. I'm not entirely sure of the method for the perfect cucumber sandwich or what the authentic recipe is to be served at an authentic British tea, but when I'm at home, it's all about personal preference. My preference is to add a ton of herbs and to make sure the cream cheese is silky smooth and spreadable.
Ingredients and Preparation
For these sandwiches, I use cream cheese, mayo, cucumbers, dill, chives, garlic and onion powder, salt, pepper, and a loaf of sandwich bread.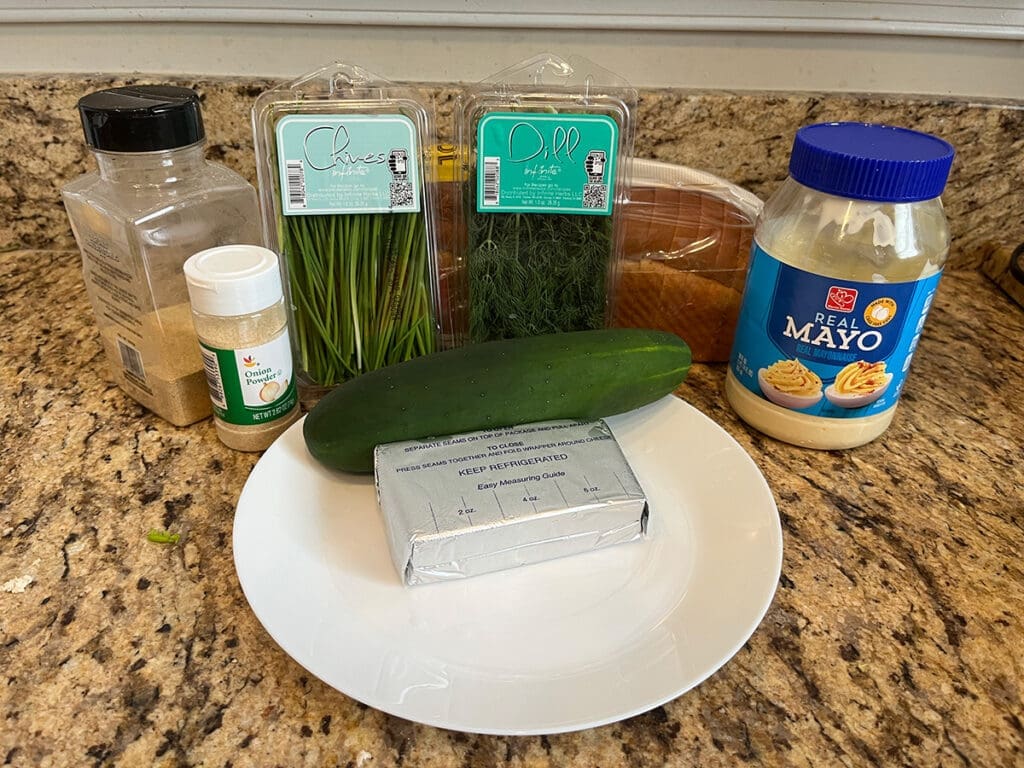 Cream Cheese
The cream cheese should be softened, which is a step I often forget to do or I don't allow ample time for. This time, however, I actually did remember to take it out at a reasonable time. Unfortunately, when it was time to start the sandwiches, the cream cheese was only slightly softened.
I've tried to use my mixer on unsoftened cream cheese before with poor results. Depending on how powerful your hand mixer is, it will either splatter cream cheese chunks everywhere, the beaters will be engulfed in cream cheese and unable to do its job, or it just gives up completely.
To speed up the process and avoid yet another broken appliance (RIP Food Processor), Xak used his little hack of placing a hot measuring cup on top of the cream cheese.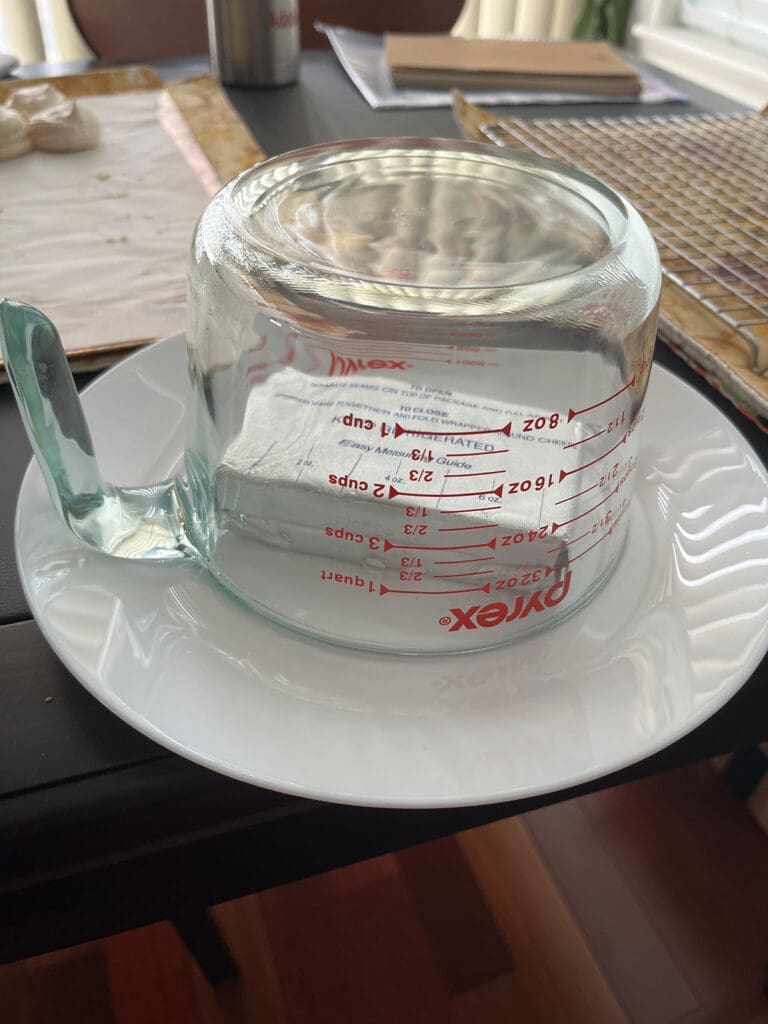 Luckily, his hack worked… sort of. At least it was good enough to ensure that our hand mixer would survive.
Herbs and Cucumbers
After mixing the cream cheese and the mayonnaise with the electric mixer, I needed to chop up and hand mix in the herbs.
I love dill, but I always tend to have a TON of dill left over after afternoon tea. We usually plan our weekly dinners around our leftover afternoon tea ingredients, such as making salmon with a tasty lemon dill sauce. Unfortunately, I don't have too many dill centric recipes in my repertoire.
Chives are also something I tend to not use too much outside of my tea sandwiches. I don't know what to do with them. Baked potatoes with sour cream and chives? Scrambled eggs with chives? I need to look into some recipe (ar)chives to see what else I can make.
After adding the herbs, the final part to complete the mixture is to add in garlic powder, salt, and pepper.
The cream cheese and mayo mixture has a smooth consistency, perfect for spreading on some bread!

Throwing in a ton of herbs I don't really measure. I just throw in however much looks right to me.
Once the herby cream cheese spread is ready, I set it aside to focus on the main part of the sandwich: the cucumbers.
I'm sure professional afternoon tea rooms use mandolines to ensure that the cucumbers are all precisely cut to the same thickness and completely uniform. Xak and I are not a professional afternoon tea room therefore our slices aren't always the prettiest. I slice the cucumbers by hand, meaning some slices are thick and others are thin thanks to my beginner level knife skills. If a cucumber is too thick though, I just eat it right then and there, which is a win for me.
I've been to places that serve open faced cucumber sandwiches meaning one slice of bread and exposed cucumbers, but I definitely prefer my sandwiches with two pieces of bread.
Spreading the herby cream cheese mixture on two slices of sandwich bread. Complete coverage!

Covering one slice of the bread with my imperfect cucumber slices. Still looks tasty to me.
I like to spread the cream cheese mixture on both pieces of bread from end to end so each slice is fully coated. Then, I place the cucumbers and put the other cream cheese covered slice of bread on top.
Once the sandwiches are done, it's best to put them in the refrigerator for them to chill until it's time for tea. It also helps me get a cleaner cut on the sandwiches.
When it's time for us to sit down for tea, I take the sandwiches out so they can be cut and placed on the bottom tier of our three tiered tray.
Finishing Touches
Cutting the crusts off is easy and one of the best parts. Xak likes to hover around during this step for the chance of snagging an offcut from the cutting board.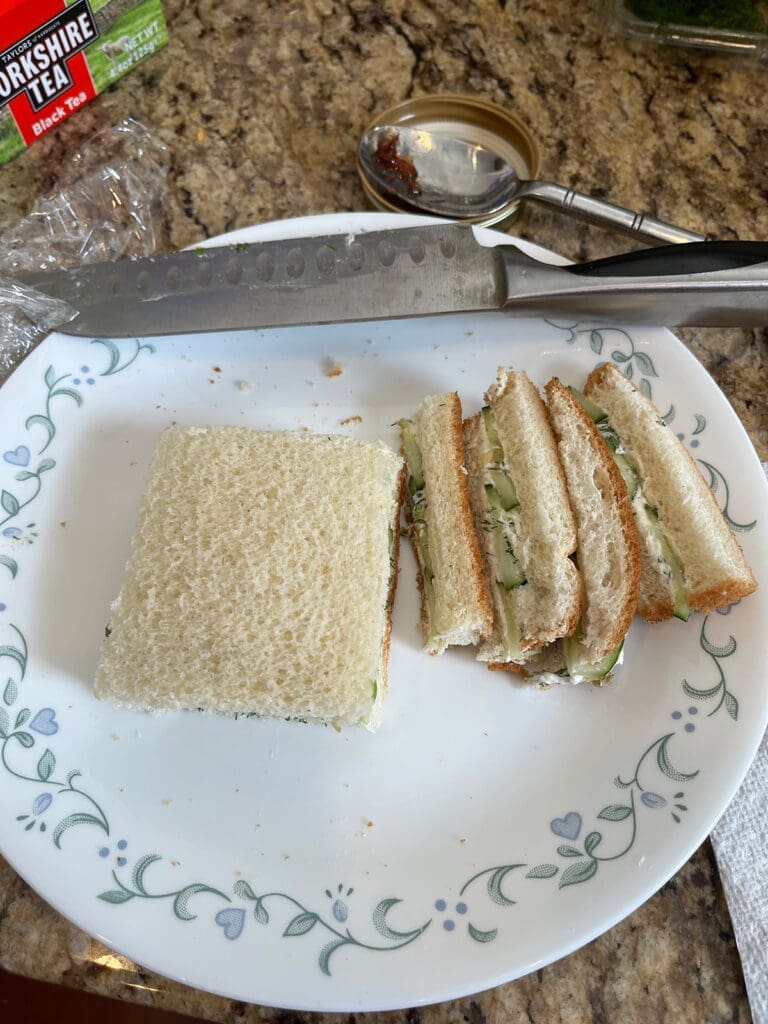 The hard part is deciding if the sandwich should be cut diagonally or in rectangles (like "finger" sandwiches). After spending about 10 minutes debating such a tough decision, I just cut them and try to move on with life.
I personally think sandwiches taste better when they're cut diagonally, but I'm not sure why.
The final step is to put a little bit of the cream cheese mixture on top and then place a tiny piece of dill, or a large piece if you're struggling to find dill recipes to use up your dill like me.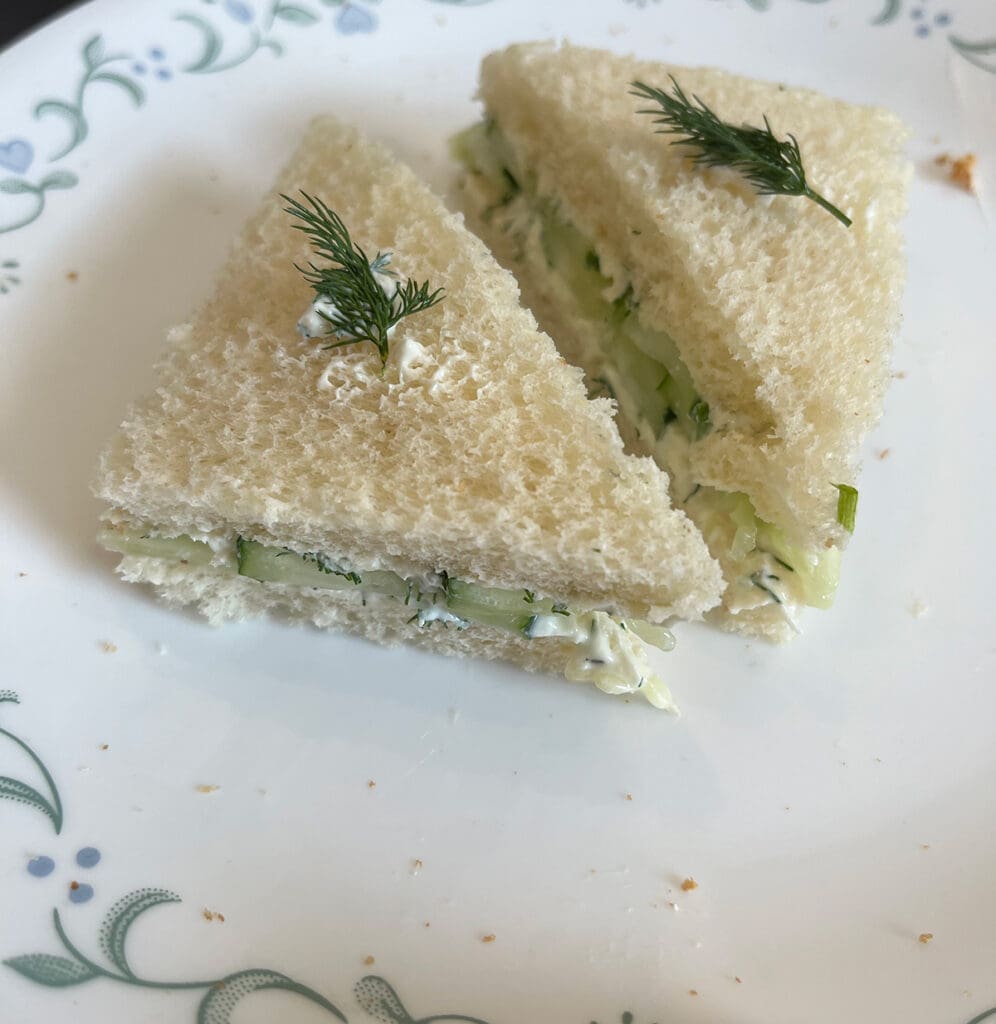 With the cucumber sandwiches completed, now it's time to work on…. everything else!
Next up: chicken sandwiches